Follow Sen. Argall on Twitter for Senate happenings – @SenatorArgall
For photos from Sen. Argall, follow him on Instagram

In this email edition:
PennDOT: Promises Made, Promises Broken?
Snowy Sunday
Senator Yudichak: Our First Independent PA State Senator in Modern History
Geisinger St. Luke's Hospital Now Open
Celebrating Supervisor Fetter's Retirement
Representative Goodman Announces Retirement
New Argall Report & Holiday Shopping Ideas
---
PennDOT: Promises Made, Promises Broken?
This week, I explained the reaction of my Berks and Schuylkill County constituents to PennDOT's broken promises on Routes 61, 222, and 422 to a report in terms I rarely use:

Due to a resignation, Governor Wolf has recently proposed a new PennDOT Secretary. Since each Cabinet Secretary appointed by the Governor must be confirmed by the Senate, each Senator will have to make his or her own decisions regarding this upcoming appointment as a part of our constitutional duty.
My position is clear: I will not vote to confirm any new PENNDOT Secretary who fails to give me a pledge, in writing, to complete the major highway projects in this region that have been promised repeatedly to me and to the people that I represent, in the past, along with a detailed plan as to how this will be accomplished.
Here is the letter: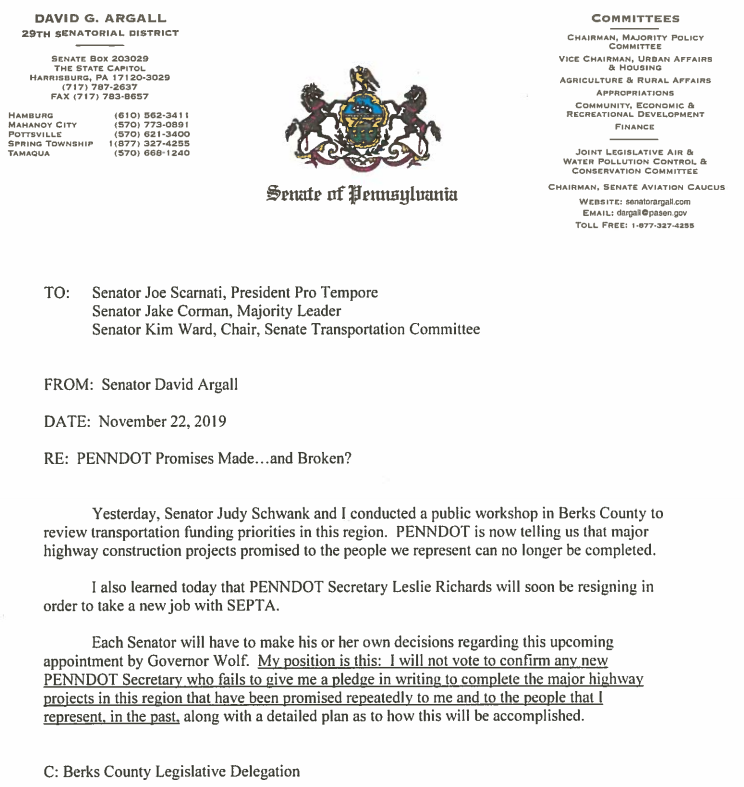 Snowy Sunday
The snow and ice may have hit our area last weekend, but Beth and I ventured out in my trusty Jeep to present a congratulatory Senate citation to the Blue Mountain Gurdwara. Founded over 25 years ago, Gurdwara is located in Bethel Township, Berks County, and serves as the central meeting place for a growing Sikh Community.
From there, we traveled to Schuylkill Haven to present a citation to the Schuylkill Ballet Theater for their 40th Anniversary performance of The Nutcracker.
Then, we finished our busy snow day with an Eagle Scout Court of Honor in Tower City congratulating Sawyer Morgan! Below, I'm pictured with Tower City's Mayor, Dan Daub, Sawyer, and some of his fellow Scouts and Leaders.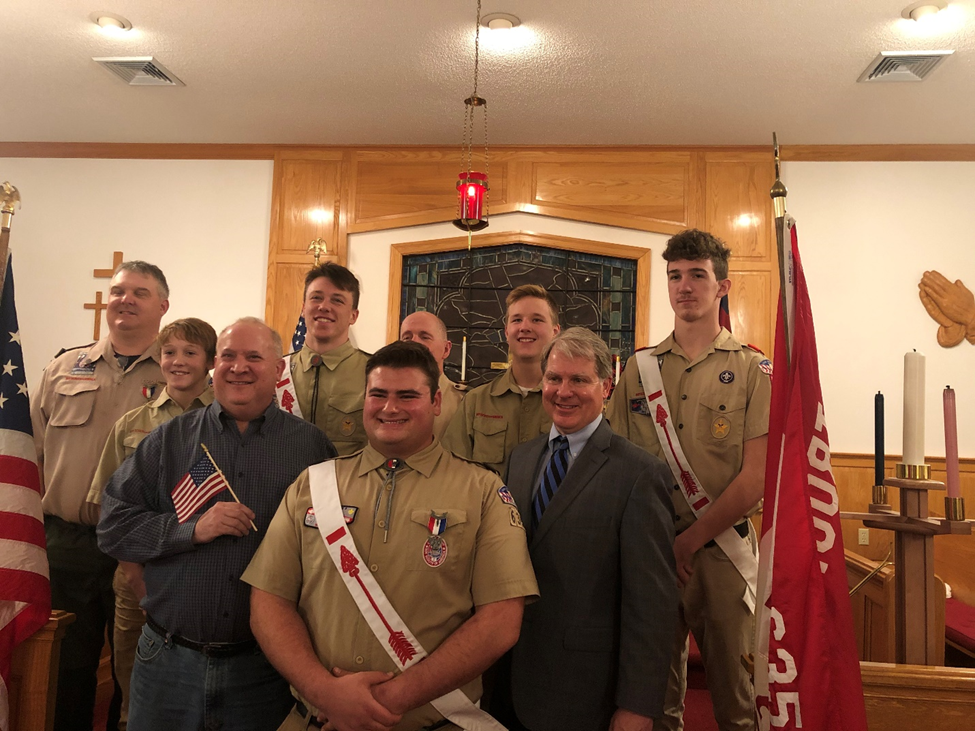 Senator Yudichak: Our First Independent PA State Senator in Modern History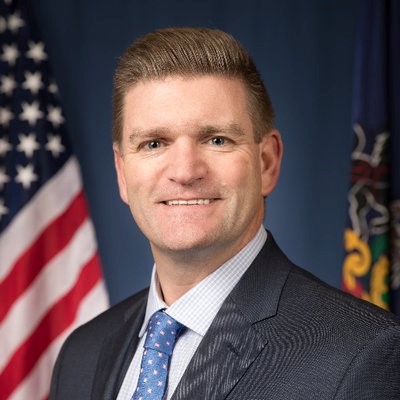 As noted in the local and national media, our neighboring Senator John Yudichak from Luzerne and Carbon Counties announced that he was leaving the Democratic Party. He is now the first Independent in the state legislature in many decades. I have worked very well with Senator Yudichak in a bipartisan manner in the past on issues such as school property tax elimination and the need to do much more regarding the continuing clean-up of old coal mining sites throughout northeastern PA as noted here. I look forward to continuing to work with him.
Geisinger St. Luke's Hospital Now Open

Recently, I was invited to speak at the grand opening of the new Geisinger St Luke's Hospital Campus near Orwigsburg. This new hospital will bring new levels of care to our community along with many new jobs. Thank you to all those who put in the hard work to make this idea a reality.
Celebrating Supervisor Fetter's Retirement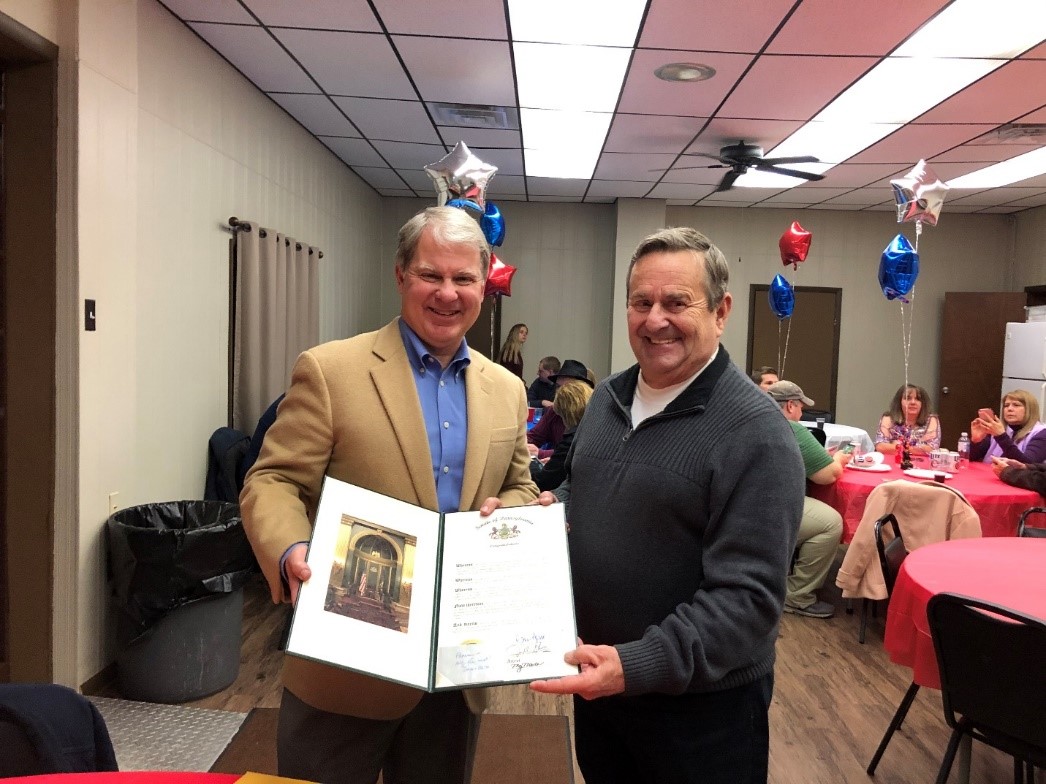 Recently, Ryan Township Supervisor, Frank R. Fetter, retired from local government service. He served the residents of Ryan Township for 42 years! His wife, Linda, is a member of my staff and I don't know how she puts up with the both of us! Congratulations, Frank!
Representative Goodman Announces Retirement

Last week, Representative Neal Goodman (D-Schuylkill) announced he will be retiring at the end of his current term in November 2020. I have always very much enjoyed working with my friend Neal in a bipartisan manner to make this region better. You can read more about it here.
New Argall Report & Holiday Shopping Ideas
In this month's video report, I focus on the role of arts in community revitalization. The arts can play a very important role in the revitalization of towns across our region.
Three local venues that promote the arts recently invited me to tour their operations. The Walk In Art Center located in Schuylkill Haven prides itself in bringing new people to the area so that Schuylkill Haven and the surrounding communities have the opportunity to revitalize. The Arts Barn in Orwigsburg features over 100 local artists and artisans and displays fine arts and crafts in a country-style setting. The Tamaqua Community Arts Center provides educational opportunities and features a performance venue, an art studio, and instructional workshops.
This holiday season, you can purchase gifts or classes for your loved ones at one of these art venues or visit other Schuylkill County retail locations. In Berks County, here's how you can shop local.