Did Governor Wolf's Policies Hurt Democrats on November 3?
Governor Wolf VETOED Liability Protections for Schools, Health Care Providers, Employers
COVID-19 and my Offices
The Train Station in Tamaqua: A Symbol of Revitalization
New Argall Report: New Tax Credit Provides Opportunities in Manufacturing
Past Senators: Heister Clymer (1827-1884)
License and Leaners Permit Expiration Deadline Extended
2021 Fishing Licenses Now on Sale
COVID-19 Charts: Berks & Schuylkill
---
Coronavirus Emergency Order Day 273
Did Governor Wolf's Policies Hurt Democrats on November 3?
With all the attention on the presidential election, here's an interesting fact: on the state level, Pennsylvania Democrats suffered many high-profile losses in 2020. Republicans in the State Senate maintained our strong majority. Republicans in the State House gained seats and unseated the Democrat Minority Leader. In a considerable upset, Republicans won both the statewide Treasurer and Auditor General offices—this will be the first time that Republicans hold both of these offices at the same time since the 1950s! The new Auditor General, Timothy DeFoor, will be the first person of color to hold statewide office.
Lowman Henry attributes these losses to the policies and actions of Governor Wolf. You can read his thoughts here.
You can see the full state election results here. These results are still subject to court decisions.
Governor Wolf VETOED Liability Protections for Schools, Health Care Providers, Employers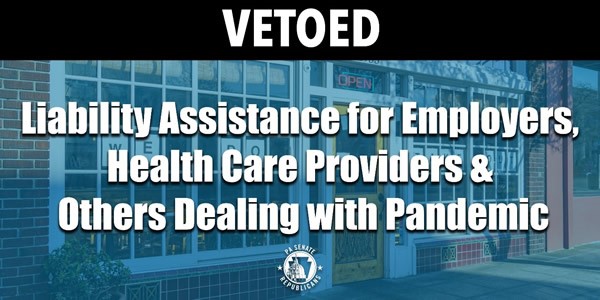 Governor Wolf has vetoed HB1737 which would have protected a variety of businesses, schools, colleges, universities, healthcare providers, and child-care centers from liability lawsuits if they properly followed health and safety orders.
Capitolwire quoted these expert opinions on the Governor's veto:
Zach Shamberg, CEO of the PA Health Care Association, stated: "Throughout the COVID-19 pandemic, Pennsylvania's long-term care providers and their frontline workers have gone to extraordinary lengths to care for our most vulnerable population. Unfortunately, shortages of personal protective equipment and testing supplies, coupled with ever-changing guidance from state and federal regulatory agencies, have created an environment ripe for opportunistic legal action directly related to this emergency."
Gene Barr, CEO of the PA Chamber of Business and Industry stated: "Across the nation, nearly 30 other states have implemented some form of either product or exposure liability protections. These types of protections are broadly supported and a top priority for small businesses, non-profits, educational and health care institutions."
Gordon Denlinger, the National Federation of Independent Business's Pennsylvania Executive Director, stated: "One frivolous lawsuit can shutter a small business even if the business owner followed all the health and safety rules…That's because mounting a legal defense can push a small business that is already struggling financially into bankruptcy."
COVID-19 and my Offices
I have tested negative for COVID-19.
My offices in Berks and Schuylkill Counties will remain open to the public, with the exception of his office in Borough Hall in Hamburg which has been closed by Borough Council. Staff will continue to follow Senate guidelines regarding cleaning, social distancing and wearing masks.
Whenever possible, constituents are urged to contact the my office by phone or email rather than in-person visits, due to the ongoing pandemic. My offices can assist with any state government related issue, including unemployment compensation, PennDOT, birth certificates, award citations, and questions regarding legislation.
The Train Station in Tamaqua: A Symbol of Revitalization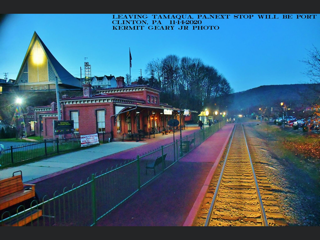 Through the hard work of the community and state programs like CRIZ, Tamaqua has made significant strides in the effort to breathe new life into their town. The Train Station in Tamaqua is a perfect symbol for this revitalization effort.
This historic 1874 station was set to be demolished in 1980, but after over a decade of hard work from both private citizens and organizations and public officials, this site was transformed into a beautiful restaurant, which you can learn more about here. There are plans in the works to bring more trains back to the station for future special events! You can learn more about the history of the train station here.
New Argall Report: New Tax Credit Provides Opportunities in Manufacturing
The newest edition of the Argall Report focuses on a recent workshop discussion conducted by the Senate Majority Policy Committee and the House Majority Policy Committee to discuss Act 66, the Local Resource Manufacturing Tax Credit Program.
This bill was an achievement in bipartisan collaboration to improve the economy of Pennsylvania. My friend and colleague Senator John Yudichak (I-Carbon/Luzerne) worked tirelessly for months to achieve an agreement between Republicans and Democrats, business and labor, the House, the Senate, and the Governor. The result of all this hard work was a new law which will create thousands of good paying jobs to sustain Pennsylvania families. As a major energy producer, Pennsylvania is helping to drive this nation into prosperity and the jobs created along the way have great potential to assist our more economically depressed areas.
You can watch the report here.
Past Senators: Heister Clymer (1827-1884)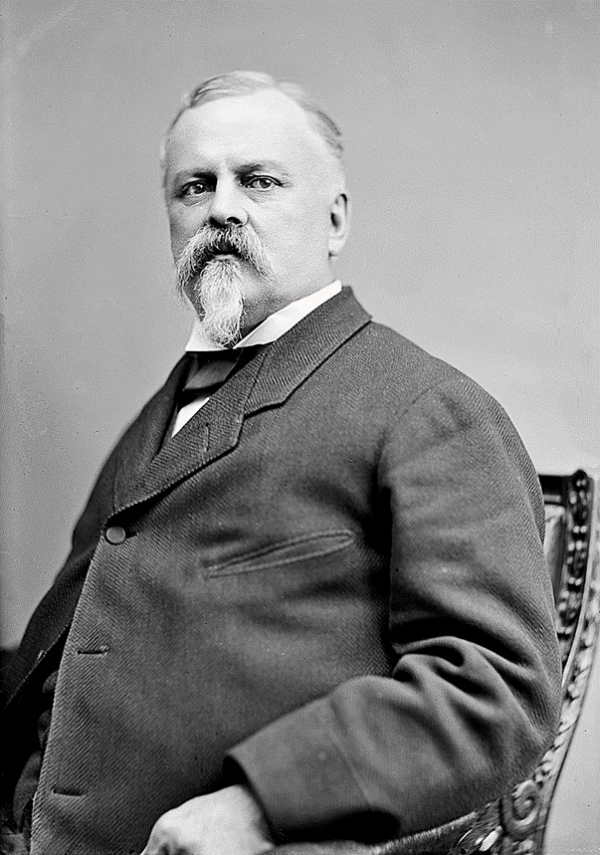 Heister Clymer was born in 1827 near Morgantown in Berks County. He attended school in Reading before attending Princeton to study law. He was admitted to the bar in 1849 and practiced in Berks and Schuylkill County until his political career began in earnest in 1860.
Clymer was a delegate to the Democratic National Convention in 1860 and was elected to the State Senate, where he served from 1860-1866. He unsuccessfully ran for Governor in 1866. Clymer's campaign was centered around white supremacist policy and produced some of the most graphically racist posters and pamphlets of the decade.
He was later elected to the US House of Representatives, where he served from 1873-1881. He retired from the House to be the Vice President of the Union Trust Company in Philadelphia. Clymer ultimately took his own life in 1884.
You can learn more about him here.
License and Leaners Permit Expiration Deadline Extended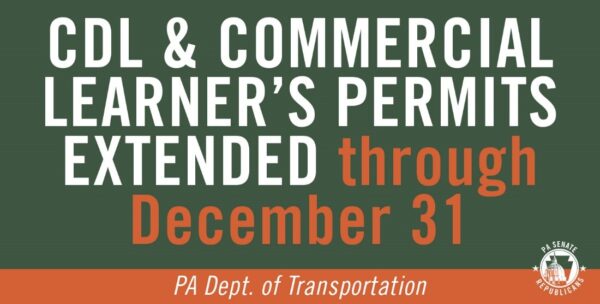 Expiration dates for PennDOT commercial driver licenses and commercial learner's permits have been extended to December 31 due to disruptions caused by COVID-19 mitigation efforts. Expiration extension deadlines on non-commercial driver licenses, photo ID cards, learner's permits and camera cards ended August 31.
2021 Fishing Licenses Now on Sale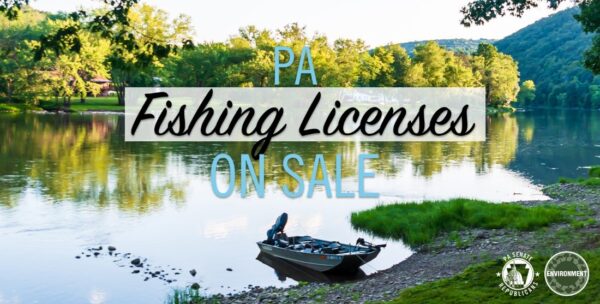 2021 PA fishing licenses are now on sale from the PA Fish and Boat Commission. Licenses, permits and gift vouchers can be purchased online or by visiting retail license issuing agents. Valid immediately for up to 13 months through Dec. 31, 2021. Multi-year options are also available in increments of 3, 5, and 10 years. https://www.fishandboat.com/Pages/default.aspx