Remembering the Victims of Communism
Veterans' Day: November 11
Recognition for Korean War Veterans
Another Busy Weekend
Automated Work Zone Speed Cameras for I-78, Berks County
Protecting Faith-Based Adoption
State Government Internships for College Students
---
Remembering the Victims of Communism
November 7th marks the 102nd Anniversary of the Bolshevik Revolution which transformed Russia into the communist Soviet Union. Communist policies from the Soviet Union, China, Cuba, and North Korea have resulted in the death of 100 million innocent people. Retired Army Colonel, Senator Doug Mastriano (R-33) and I are sponsoring a resolution to remember the senseless suffering and death that results from communist ideas. A similar resolution was recently approved by a 167 to 30 vote in the State House.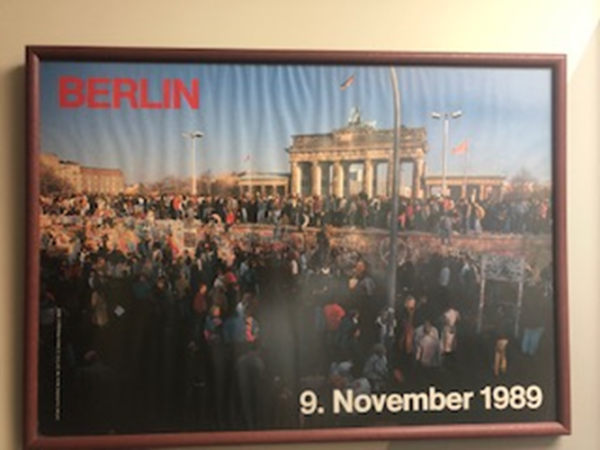 This month also marks the 30th Anniversary of the fall of the Berlin Wall. I saw the tragic effects of communism first-hand when I toured Germany as an Eisenhower Fellow after the fall of the Berlin Wall. My family and I are so grateful that my mother's family emigrated from Silesia, along the German-Polish border, hundreds of years before the rise of communism. How fortunate we are to live in freedom, unlike our distant cousins who suffered under communism for generations.
Veterans' Day: November 11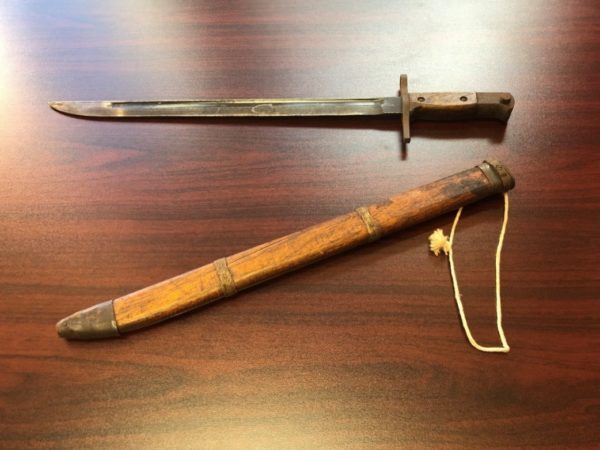 On display in my Mahanoy City office: Uncle Bill's Japanese Army Bayonet from 1945
We all know someone who served…perhaps recently, perhaps long ago. In the 1940's and 1950's, Americans faced a question: Did you want to live in a world where Hitler, or later Stalin, controlled Europe; or did you want to help them live in freedom, and thus protect America? On my mother's side of the family, Uncle Charles Miller served the U.S. Army in Germany during World War II and on my father's side of the family, it was his Uncle Bill Needs from Shenandoah, serving as a Marine during the Battle for Okinawa. As a child, I had hundreds of questions I wanted to ask each of them, but I was always told they didn't want to talk about those terrible days. The more I learned about those battles, the more I respected them….and their desire for privacy. On November 11, we remember and honor their service and the service of all of our many veterans.
Recognition for Korean War Veterans
Thirty local veterans from the Korean War received medals last week to recognize their selfless sacrifice and service. The awards were presented by US Senator Pat Toomey and Congressman Dan Meuser (R-9th) at the Schuylkill County Courthouse. I was invited to attend, along with Reps. Jerry Knowles (R-124) and Mike Tobash (R-125). It was an honor to be there and recognize their service to this nation. You can read more about it here.
Another Busy Weekend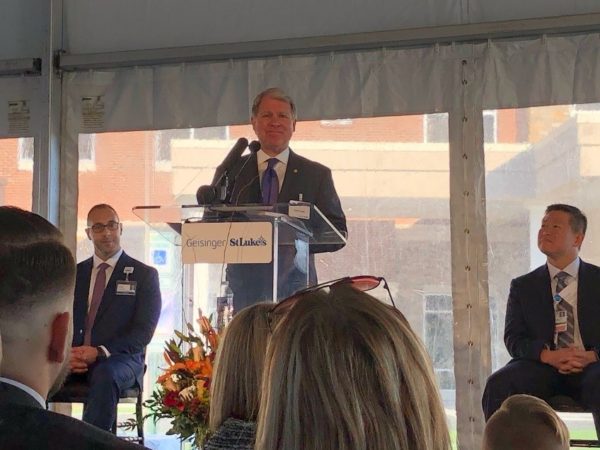 Gabe Kamarousky, Geisinger St. Luke's Hospital, Senator Argall and Dr. Jaewon Ryu, Geisinger
Last weekend, I was invited to speak on the importance of economic development at the pre-opening ceremony for the Geisinger St. Luke's Hospital near Orwigsburg—the first new hospital in Schuylkill County in over 90 years, a $72 million dollar investment. I was able to tour the modern facilities, which you can read about here. I was also invited to downtown Hamburg for the grand opening of the Our Town Foundation and Hamburg Area Art Alliance's new offices, and then participated in Schuylkill Haven's Walk in Art Center ribbon cutting for their new exhibit on local folk art. Sunday I walked in the Jack Frost parade in Robesonia. If the children of Robesonia area were a bit more "hyper" than usual this week, it may be due to the bags and bags of candy my volunteers and I distributed along the parade route!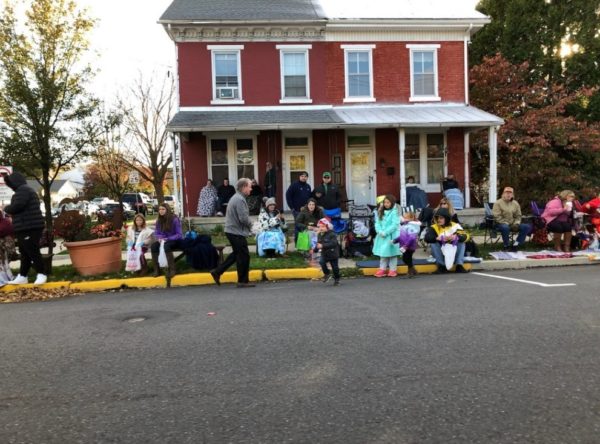 Jack Frost Parade, Robesonia
Automated Work Zone Speed Cameras for I-78, Berks County
Berks County Senator Judy Schwank (D-11) and I learned that PennDOT has agreed to our joint request to deploy automated speed enforcement units in work zones along Interstate 78 in Berks County soon ends based on our bipartisan new law, Act 86 of 2018.
PennDot will implement a statewide Automated Work Zone Speed Enforcement (AWZSE) pilot program to reduce work zone speeds and improve work zone safety for workers and motorists. Automated speed enforcement units will be deployed to a number of active work zones, such as Interstate 78 in Berks County.
The goal, as many of you have requested in your calls and emails to me and Senator Schwank: fewer accidents and fewer tragedies in the active work zones of our busiest highways.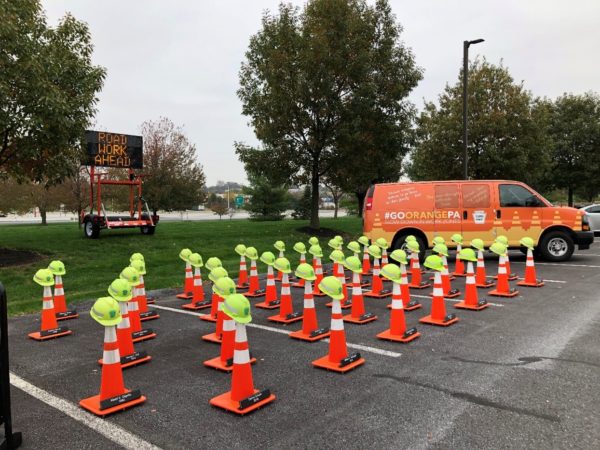 Memorial to those workers who lost their lives due to excessive speed accidents in work zones.
Protecting Faith-Based Adoption
A letter penned by a dozen Pennsylvania Senators to the White House resulted in President Trump mandating a roll-back of regulations limiting foster care and adoption opportunities in Pennsylvania and nationwide.
The effort was spurred by one of our newest State Senators, Doug Mastriano (R-33), who learned that federal regulations put in place by President Obama were being used by Governor Tom Wolf and his administration to limit opportunities for faith-based agencies to participate in adoption and foster care services.
I signed the letter along with 12 other Senators because we believe that faith-based adoption agencies should not be discriminated against.
State Government Internships for College Students
Applications are now being accepted for 2020 summer internships through the James A. Finnegan Fellowship Foundation. This is a great opportunity for Pennsylvania's future leaders. The Finnegan Foundation allows college students all across Pennsylvania who are interested in politics and government to take their experience to the next level. If selected, a student has the opportunity to receive a paid internship in one of the executive agencies located in Harrisburg.
In order to apply for the Finnegan Foundation's 2020 Summer Intern Program, an interested student must submit an essay between 1,500 and 2,500 words. The subject for this year's essay: Do you believe Pennsylvania should join other states in either eliminating or seriously curtailing the current exemptions from mandatory immunizations?
Full details on the Finnegan Foundation's Summer Intern Program can be found at the link here. Students have until January 31, 2020 to submit their essays and other materials to the foundation.
As a former Finnegan intern, I highly recommend this program!