In this email edition:
Statement on the 2020 Election
Department of State: Unprepared for Elections
Reflecting on the Heroism of Flight 93
Senate Passes Package of Bills to Support Veterans, Military Families
Tamaqua CRIZ Zone Brings Success to the Community
Argall Report: Local Veterans and Service Organizations Struggle with Shutdown
COVID-19 Charts: Schuylkill and Berks
Past Senators: Francis Hughes
Coronavirus Emergency Order Day 245
Statement on the 2020 Election
In light of widespread concerns regarding the security of Pennsylvania's 2020 election, here is my position–
First off, I would like to echo our State Senate Leadership's calls for Secretary of State Kathy Boockvar to resign as well as House Speaker Cutler's call to audit this year's election process. Secretary Boockvar's ever-changing guidance regarding the process for receiving and canvassing mail in ballots is unacceptable. Her actions have undermined both the Constitution, which gives the sole authority for determining the process for elections to the State Legislature, and the Election Code. The rules for how mail in ballots are to be counted were clearly laid out before the election, but Boockvar's eleventh hour guidance muddied the waters. I would recommend reading the full statement from President Pro Tempore Joe Scarnati and Majority Leader Jake Corman here.
I would also like to emphasize that the Senate of Pennsylvania has joined with the Pennsylvania GOP in litigation that is currently before the United States Supreme Court regarding the mail in ballot deadline extension. This case seeks to overturn the partisan ruling that was previously made by Pennsylvania's Supreme Court that allows mail in ballots received up until Friday, November 6th but postmarked by November 3rd to be counted. This ruling clearly goes above and beyond what the Legislature intended when crafting the election code, and I would encourage the Supreme Court to take up this case.
Lastly, if anyone has personally experienced any instance of fraud while you were voting, please share your concerns with my office so we can help pass your case along to the proper authorities. We all want the same thing in this election: a fair process where every legal vote is counted, and everyone can have faith in the ultimate result of the election. My office is here to assist you if you believe that your right to vote was taken away during this election.
Department of State: Unprepared for Elections
On January 27, 2020, I chaired a meeting of the Senate Majority Policy Committee to discuss how the Department of State was preparing for the 2020 elections. During that hearing, all of us on the committee made one point abundantly clear to the Department of State: they must do everything possible to ensure our elections are conducted fairly and efficiently.
One month later, during a Senate Appropriations hearing with the Department of State, I asked Secretary Boockvar if she believed the 2020 elections would go forward without any problems. Her answer: "We will be ready, we are working around the clock, we will be ready."
Even though the Secretary told us that she expected our elections would go smoothly for counties, county officials were less enthusiastic of her assessment and held serious concerns.
You can watch the full exchange between Secretary Boockvar and me below.
Flash forward to November 2020. After assuring us that everything would run smoothly, the Secretary of State issued rules that were not in compliance with the state's Election Code or the legal cases that were decided leading up to the election. These decisions were made hours before the polls were to open. In pursuing these unilateral actions, she violated the oath that she swore to uphold.
Due to the Secretary's actions which could undermine public confidence in our elections, the Senate Majority Leader asked Secretary Boockvar to resign:
https://www.pasenategop.com/…/senate-republican…/
Reflecting on the Heroism of Flight 93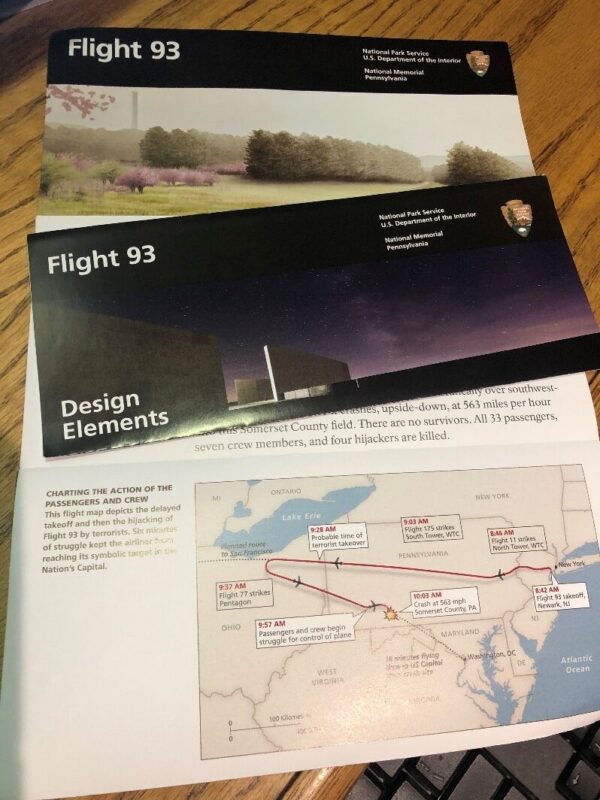 After some meetings in Pittsburgh last week, Beth and I visited the Flight 93 memorial on our drive home. This very moving memorial is well worth the visit!
Most of us can easily remember exactly where we were on the morning of 9-11-2001 – and the fear of more attacks to come. The bravery of the passengers and crew on that fateful flight saved countless lives and must never be forgotten.
Senate Passes Package of Bills to Support Veterans, Military Families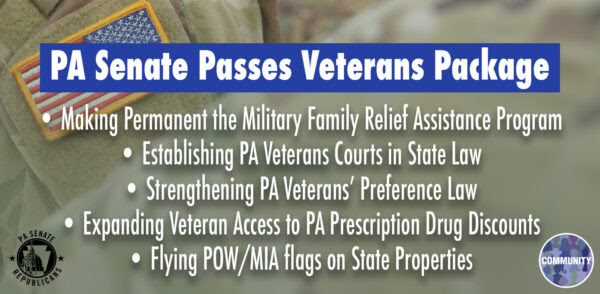 Throughout our nation's history, Pennsylvania's military veterans and their families have been called on to make extraordinary sacrifices on behalf of a grateful nation. I recently supported several bills designed to boost support for veterans and military families and honor their incredible efforts to protect their fellow citizens.
Representative Neal Goodman (D-123) sponsored HB375, which would help more veterans qualify for prescription drug assistance. I strongly advocated for this bill's passage in the Senate.
The legislation also includes bills that would permanently establish the Military Family Relief Assistance Program in state law, update the Veterans' Preference Law to ensure veterans receive proper credit for their skills and experience, create Veterans Courts to provide mentorship and treatment for underlying problems, and ensure the POW/MIA flag is flown on any ground or building owned by the Commonwealth and at all roadside rest stops and welcome centers operated by PennDOT, as well as PA Turnpike service plazas.
All of these bills were sent to the Governor's desk to be signed into law in advance of Veterans Day on November 11.
Tamaqua CRIZ Zone Brings Success to the Community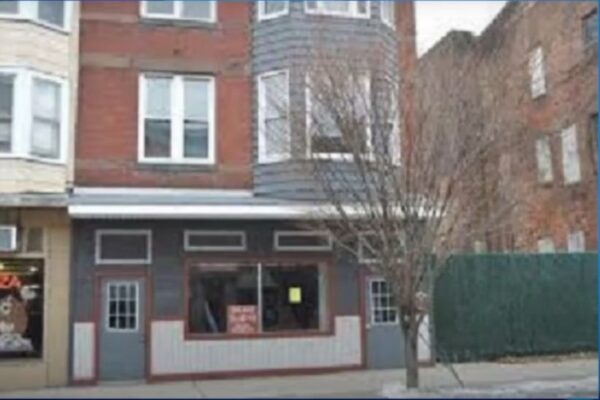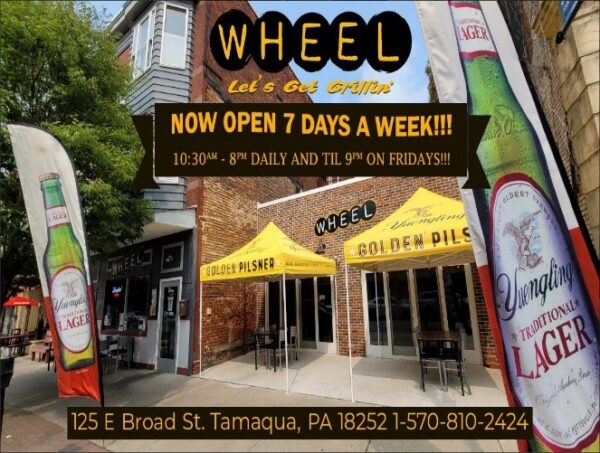 Tamaqua was the first borough in Pennsylvania to be selected for the City Revitalization & Improvement Zone (CRIZ) pilot program, which aims to encourage business growth in underdeveloped properties. The CRIZ program has brought new businesses like The Wheel Restaurant to Tamaqua. CRIZ is proving to be a very valuable tool in Tamaqua – more than a half-million dollars have now been reinvested here to aid revitalization efforts.
In the pictures above, you can see how the program has brought new life to the borough. You can watch a video on some of the projects and how the CRIZ Authority is overcoming the challenges of coronavirus here.
Argall Report: Local Veterans and Service Organizations Struggle with Shutdown
The newest edition of the Argall Report focuses on a recent workshop discussion conducted by the Senate Majority Policy Committee on the challenges facing Pennsylvania's veteran and service organizations as a result of COVID-19 and the Governor's shutdown. The workshop discussion took place at the request of Senator Doug Mastriano (R-Adams & York).
You can watch the report here.
COVID-19 Charts: Schuylkill and Berks

Here are the latest coronavirus numbers for Schuylkill and Berks Counties.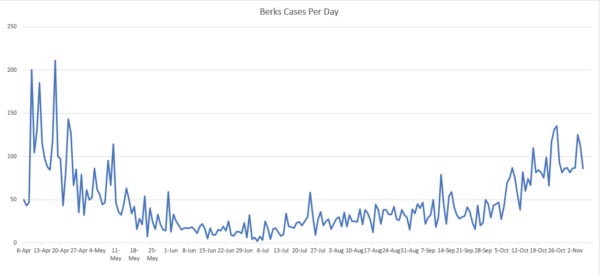 Past Senators: Francis Hughes
Francis Wade Hughes was born in Montgomery County in 1817. He was known throughout his life for being exceptionally bright, which led him to attend law school in Carlisle before being accepted to the Schuylkill County Bar in 1837. He went on to practice law in Pottsville.
He was elected to the State Senate as a Democrat in 1843 and later became the Pennsylvania Attorney General from 1853-1857. His political career ended in scandal, when a memo that Hughes drafted in support of Pennsylvania joining the Confederacy became public. He was the chairman of the Democratic State Committee at the time.
He was later the chief prosecutor for the infamous Molly Maguires case, which you can read more about here. You can read more about Hughes' life here.