In this email edition:
Governor Wolf's Closures: "Consistently Inconsistent"
Judge Hale Sworn In & Her Potential District Justice Replacement Emerges
Honoring the Hometown Farmers' Market
Grants Awarded to Restore Local Watersheds
New Federal Funding Available for Volunteer Firefighters
General Election Deadlines Loom – Register by October 19
Past Senators: Charles Shoemaker Jr.
Updated Coronavirus Data: Schuylkill & Berks County
Coronavirus Emergency Order Day 224
Governor Wolf's Closures: "Consistently Inconsistent"
The Auditor General's recent review of the Wolf Administration's business shutdowns has raised serious concerns. Many smaller businesses were forced to close while their larger competitors remained open and the constantly shifting guidance from the Administration created confusion and challenges that unnecessarily cost thousands of Pennsylvanians their jobs
The Auditor General – a Democrat – echoed what many lawmakers have said for months: the entire waiver process was riddled with inconsistent and unclear decisions that harmed Pennsylvania communities.
A recent editorial from the Pottsville Republican Herald had this to say about the audit–
"Gov. Tom Wolf and his administration should acknowledge their failure and work to address the situation. That way, as new orders come from the governor's office, they can be made in a manner that has uniformity and the best interest of all in their foundation.
"As the pandemic slogs on, and as experts say it is unlikely to be the last of its kind, the Legislature should join the administration to work jointly on a set of reliable emergency closure standards, making sure that they are rooted in science and expert analysis, rather than politics."
Judge Hale Sworn In & Her Potential District Justice Replacement Emerges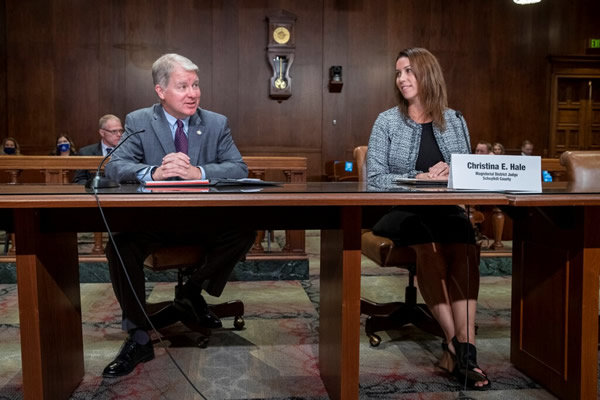 This week, Christina Hale was sworn in as a new judge on the Schuylkill County Court of Common Pleas. She has served as a magisterial district judge since 2011 and received bipartisan support from the State Senate during the confirmation process for her new position. It was an honor to lead her appointment through the Senate.
You can read more here.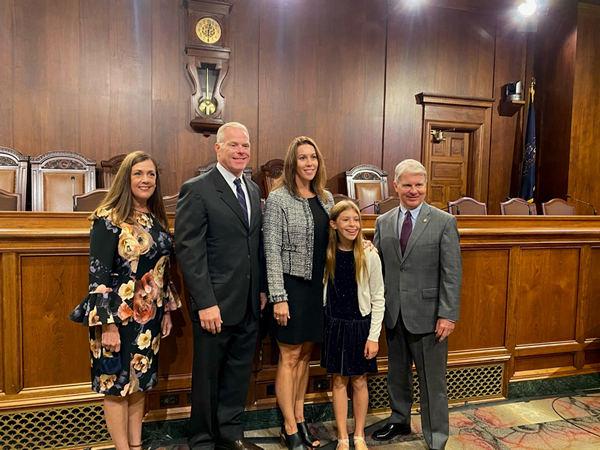 Judiciary Chairwoman Senator Lisa Baker (R-Luzerne), the Hale Family, and I
Also, I joined Representative Jerry Knowles, Representative Mike Tobash, Commissioner Barron "Boots" Hetherington and Commissioner George Halcovage in sending a letter to Governor Wolf in support of nominating John Malinchok to replace Judge Hale as a Magisterial District Judge in northern Schuylkill County.
Mr. Malinchok has been a dedicated public servant serving on Frackville Borough Council and as the long-term Chairman of the Schuylkill County Planning and Zoning Commission. He is also an active volunteer in the community and is a member of the Frackville Public Library, Frackville Business and Professional Association, the Frackville Elks, and Holy Ascension Orthodox Church Council.
You can read our letter here.
Honoring the Hometown Farmers' Market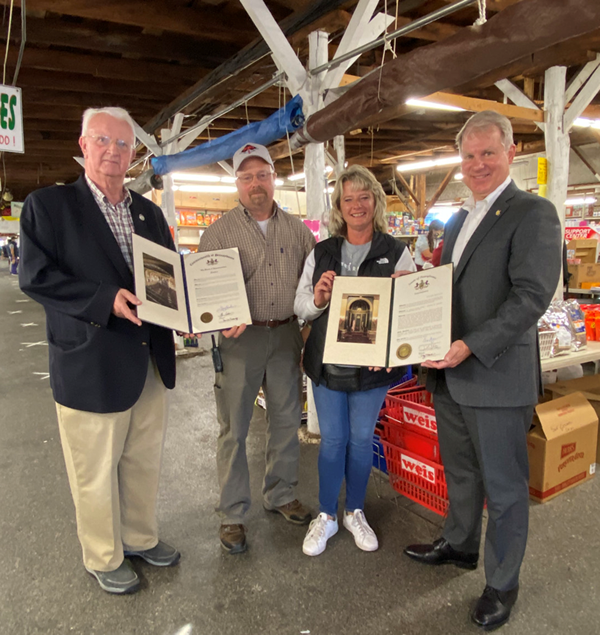 Presenting citations to James Dunn & Susan Biege with Representative Jerry Knowles (R-124) recognizing the Hometown Farmers Market for 70 years of service!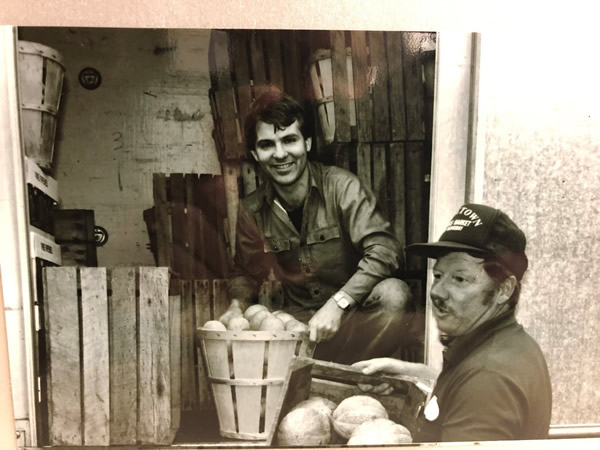 As a young State Representative, I spent a day with James and Susan's late father, Bob Dunn, to learn more about local agriculture. Since Bob purchased the site in 1982, the decisions he and his family made developed the Farmers' Markets into one of the busiest markets in the region. Congratulations to the Dunn Family and all their vendors on achieving this important milestone!
Grants Awarded to Restore Schuylkill & Berks Watersheds
The Pennsylvania Department of Environmental Protection has announced grant awards for projects that aim to restore watersheds in Schuylkill and Berks County.
The Schuylkill Headwaters Association received $750,000 for the Otto Abandoned Mine Discharge Restoration Project in Reilly Township. The Berks County Conservation District received $130,000 in funding for a watershed implementation plan for the Upper Little Swatara Creek Watershed. The Eastern Pennsylvania Coalition for Abandoned Mine Reclamation received $390,000 to support the reclamation of abandoned mines.
You can read more here.
Federal Funding Available for Volunteer Fire Companies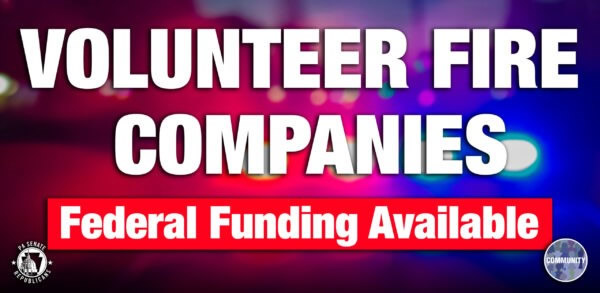 Volunteer fire departments can apply now for a new round of federal funding designed to assist with the purchase of Personal Protective Equipment (PPE) and other related supplies. Applications for the second round of grants from the Assistance to Firefighters Grant – COVID-19 Supplemental Program must be submitted by November 13 at 5 p.m.
Preference will be given to applicants requesting reimbursement or immediate use of PPE. The program is also open to combination career/volunteer fire companies.
General Election Deadlines Loom – Register by October 19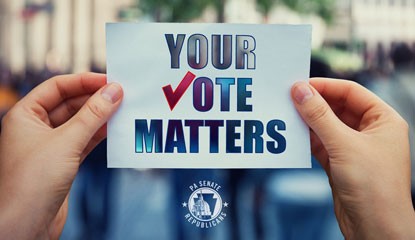 Deadlines are fast approaching to register to vote and apply for absentee or mail-in ballots. The deadline to register to vote in the November 3 general election is Monday, October 19.
If you have questions about voting status, absentee/ mail-in ballot, or voting locations you can contact your county election bureau. If you live in Schuylkill County, visit this link. If you live in Berks County, visit this link.
You can learn more here.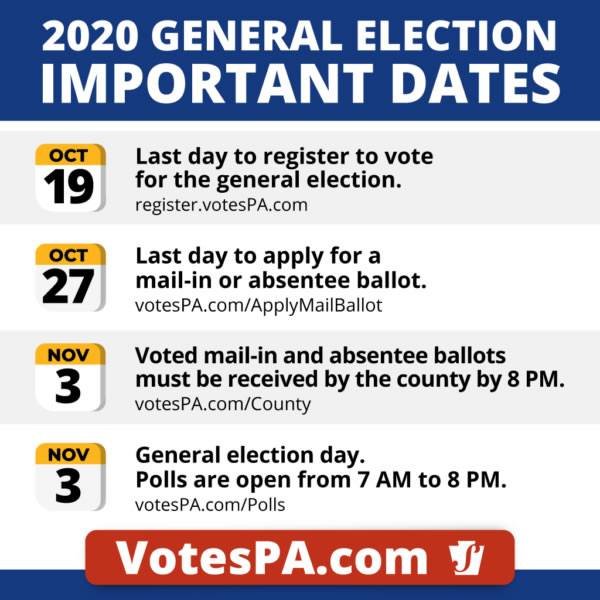 Past Berks Senators: Charles Shoemaker Jr.
Charles Shoemaker Jr. was born in Shoemakersville in 1779. His father, Charles Shoemaker Sr., helped found the town which still bears their family name. The Shoemakers owned an inn in the community.
Charles served as a State Representative for Berks County from 1791 to 1800, and then again from 1809-1813. He served as Quartermaster of the Brigade of Pennsylvania Troop during the War of 1812. While serving in that role, he was elected to the State Senate and spent the last 2 years of the war as both a legislator and a soldier. He served as a State Senator from 1813-1820. After leaving the legislature, he served as an Associate Judge of Berks County before his death in 1822.
You can read more here.
Updated Coronavirus Data: Schuylkill & Berks County

Here are the latest coronavirus numbers for Schuylkill and Berks Counties.