Follow Sen. Argall on Twitter for Senate happenings – @SenatorArgall
For photos from Sen. Argall, follow him on Instagram

Fighting Blight Statewide
Bethany Children's Home Annual Awards
Governor Wolf: Legalize Recreational Marijuana
My Former Intern Returns from Cross Country Bike Trip this Saturday
Voter Registration Deadline Monday, October 7th
Absentee Ballot Requests Now Available Online
Daylight Savings Time Poll Results
Argall Video Report: World War II Weekend
---
Fighting Blight Statewide
Last week, I was invited to attend a public hearing hosted by Senator Judy Ward (R-37) in Altoona on the issues of blight with the Senate Urban Affairs and Housing Committee. You can read more about it here. Here are two key reports from the hearing:
Stephen McKnight, President and CEO, Altoona Blair County Development Corporation shared this information:

Rebecca Brown, the Director of Codes and Inspections Department for the City of Altoona, stated the following during the hearing:

Bethany Children's Home Annual Awards
Who climbs down one of Berks County's largest buildings to aid a good cause: 57 people to be exact.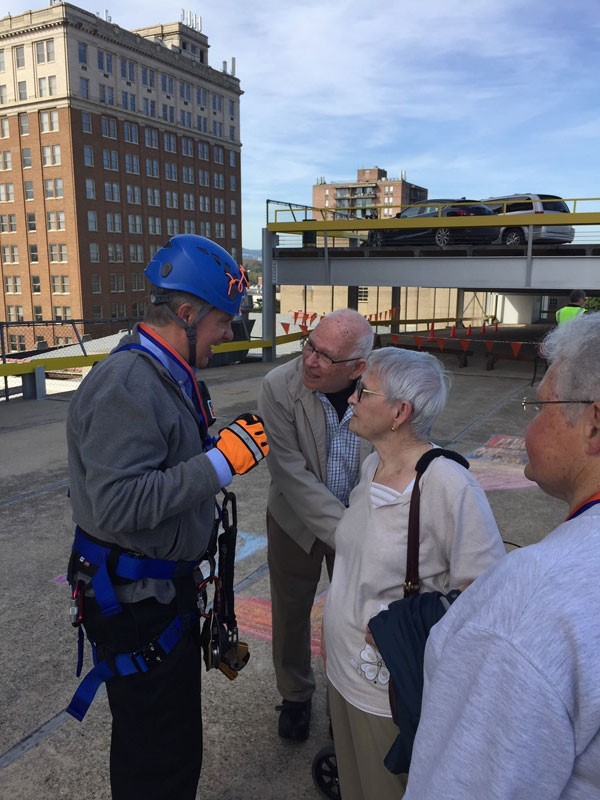 Here's the list of all the volunteers who climbed down the Abraham Lincoln Hotel for this great cause, while raising tens of thousands of dollars. Thanks to all!
To celebrate our survival, I attended the Bethany Children's Home Annual Tribute Breakfast. Bethany presented their Children's Award to BB&T Bank; the Rev. Dr. Harold A. Henning Spirit Award to Elmer Seeling; and honored their long-time CEO Kevin Snyder for his efforts on behalf of the Children's Home in Womelsdorf.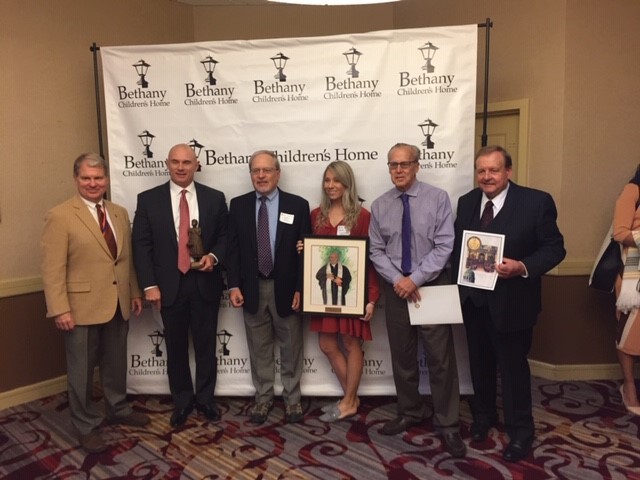 Here, I join Dave Roland-BBT Bank; Stephen, Sarah and Edward Seeling; and Kevin Snyder – CEO of Bethany Children's Home
Governor Wolf: Legalize Recreational Marijuana
Governor Tom Wolf and Lieutenant Governor John Fetterman began a major push for the legalization of marijuana. You read more about what Berks County lawmakers said on this issue here.
My Former Intern Returns from Cross Country Bike Trip this Saturday
My Former intern, John Matulevich of St. Clair, will finish his cross country ride to raise money for two charities–Hillside SPCA and Back in Black Rescue. He has biked for 43 days starting at the Golden Gate Bridge in California. Keep up the great work, John. I look forward to joining you on Saturday at your Victory Celebration. You can read more about his final journey home.
Voter Registration Deadline Monday, October 7th
To be eligible to vote in the November General Election, you must be registered by vote by Monday, October 7, 2019. You can verify your voter registration status or register by logging onto the Pennsylvania Online Voter Registration website.
Absentee Ballots Now Available Online
Voters who are unable to make it to the polls on Election Day due to work, vacation, disability, college classes and other qualifying reasons can now apply to receive an absentee ballot online. Absentee ballot applications and other information about voting in Pennsylvania is available online here.
In order to be counted, the county board of elections must receive ballots by 5 p.m. on Tuesday, October 29. Absentee ballots cannot be completed online; only the application form for an absentee ballot is available online. Military and overseas voters should still use the federal form when applying for an absentee ballot.
Voters must have a valid Pennsylvania driver's license or photo ID card in order to apply online; an individual who does not have one of these ID cards must download the paper application form and mail it to their board of elections.
Additional details about voting by absentee ballot in Pennsylvania is available here.
Daylight Savings Time Poll Results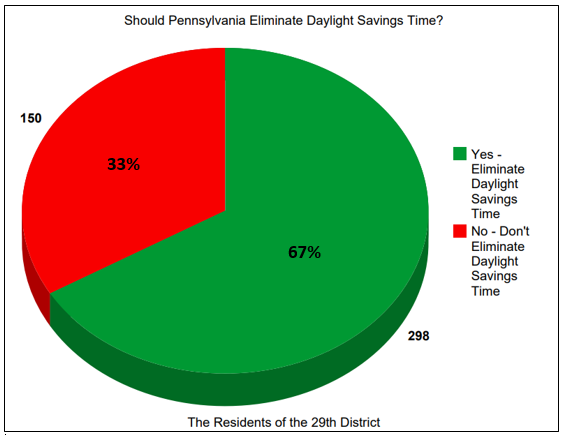 The result of our daylight savings time poll are in! We had 448 respondent. 298 (67%) of you support eliminating daylight savings time. 150 (33%) of you oppose eliminating daylight savings time. Thank you to all those who participated in the poll!
Argall Video Report: World War II Weekend
This month's Argall Report focuses on the annual World War II Weekend hosted by the Mid-Atlantic Air Museum located at the Reading Regional Airport.
This is one of my favorite events of the entire year because it gives us an opportunity to step back into time and get up front and personal with people and equipment used in the deadliest conflict in human history. The WWII veterans are the real stars of the show, but with each passing year, there are fewer and fewer that come to the event and share their story. That's why it's so important that we learn about our history and appreciate the sacrifices the Greatest Generation made so we can live our lives in peace and with freedom.
The event attracts thousands of visitors each year. The World War II Weekend features over 1,200 re-enactors representing the different countries of World War II, 200 period vehicles and 80 aircraft. You can watch the video report here.