Policy Hearings Regarding the Governor's "Consistently Inconsistent" Orders
Federal Judge Rebukes Governor Wolf's Unconstitutional Orders
Lancaster Protestors Get $1 Million Bail- Lt. Governor Protests
The PA Taxpayer Cost of Protests
U.S. Justice Department Investigating Governor's Handling of Nursing Homes
Legislation to Study PA COVID-19 Response
---
Each month, the Senate Majority Policy Committee prepares a summary of recent highlights from the PA Senate and a variety of public policy sources across the nation. Here is this month's "Policy Pulse." As always, if you have any suggestions for a future edition, please do not hesitate to contact me.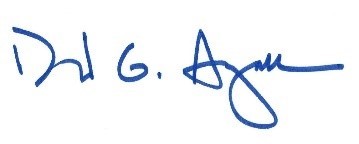 Senator Dave Argall, Chairman
Senate Majority Policy Committee
Policy Workshops Regarding the Governor's "Consistently Inconsistent" Orders
Majority Policy Committee hearings and workshop discussions offer a valuable chance for us to listen to the concerns of Pennsylvanians on a broad range of issues that deeply affect our communities. Here are some recent highlights:
At the request of Senator Judy Ward (R-Blair, Cumberland, Fulton, Franklin, and Huntingdon), we held a workshop discussion in Blair County to explore the challenges facing rural pharmacies in Pennsylvania. The discussion included testimony from pharmacists and other experts in the prescription drug industry who spoke about the danger of going out of business due to flaws in the current regulatory and reimbursement systems.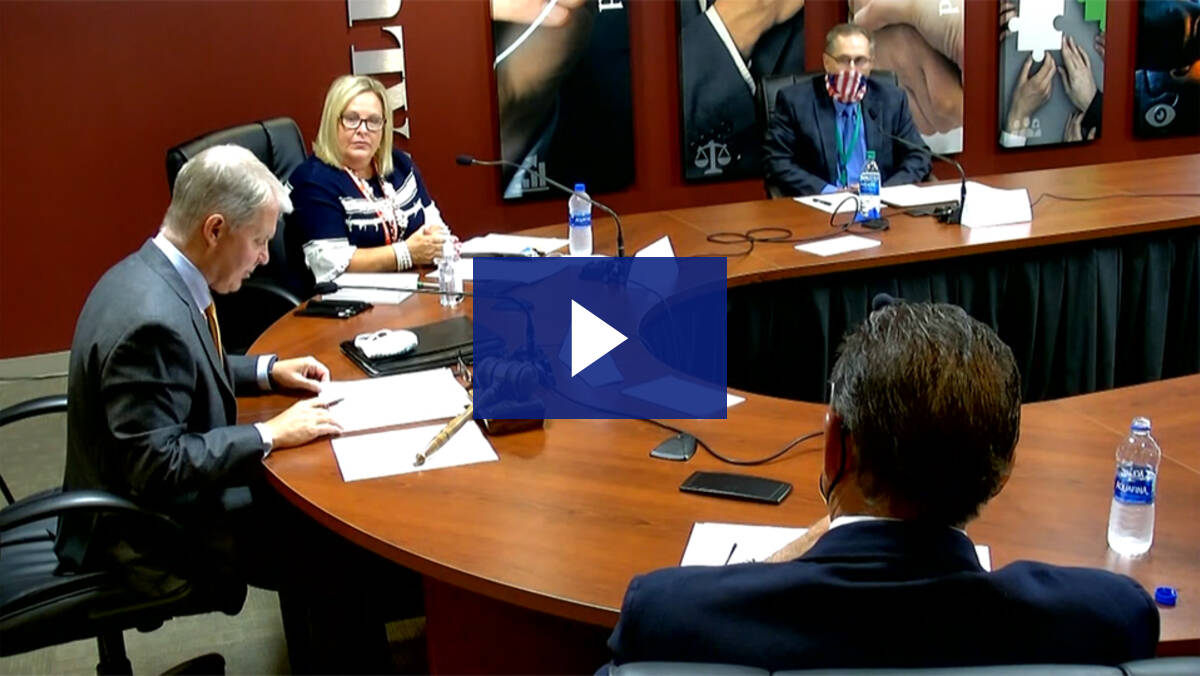 At the request of Senator Doug Mastriano (R-Adams & Franklin), the Senate Majority Policy Committee held a workshop discussion in Shippensburg on the impact of COVID-19 and the Governor's orders on service and veterans' organizations. Senator Mastriano called the approach by Governor Wolf and Secretary Levine to businesses and organizations "consistently inconsistent." The Wolf Administration did this without support or input by employees, employers, local governments, city governments, or either chamber of the legislature. Senator Mastriano and I agree- Tom Wolf is not a king!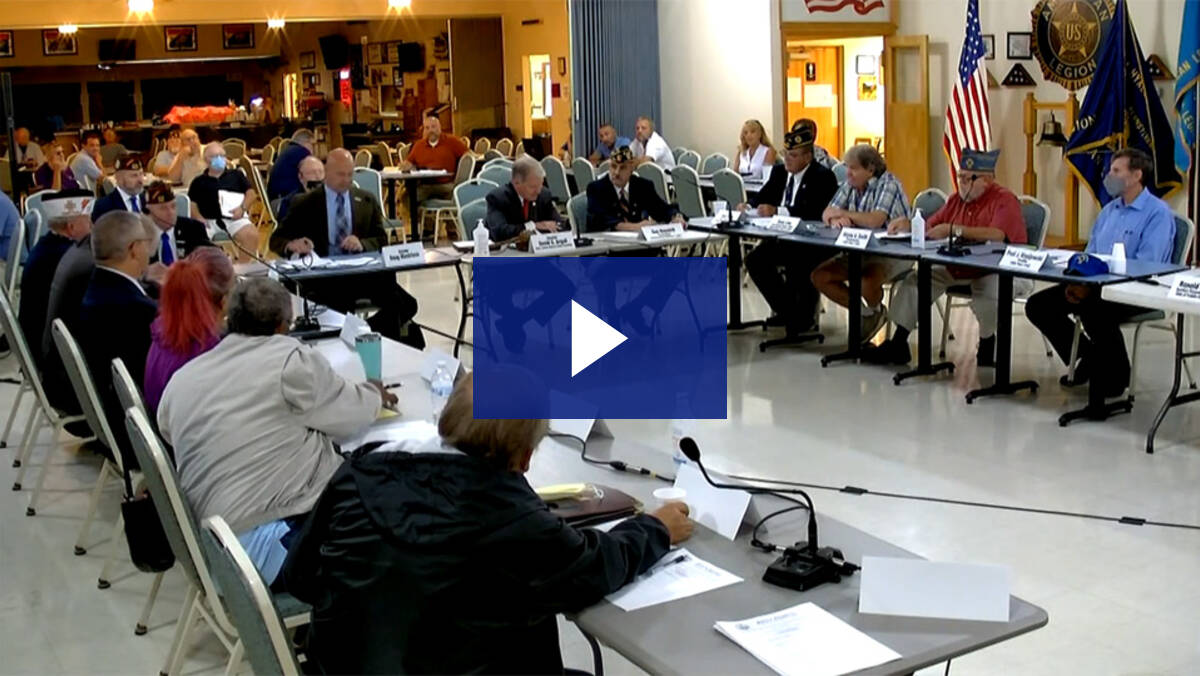 At the request of Senator Camera Bartolotta (R-Beaver, Washington, & Greene), we traveled to Washington County to host a workshop discussion on the ongoing economic recovery of western Pennsylvania. Local business owners and statewide industry experts weighed in on the challenges they still face in helping the region get back on its feet after the economic devastation caused by Governor Wolf's shutdowns.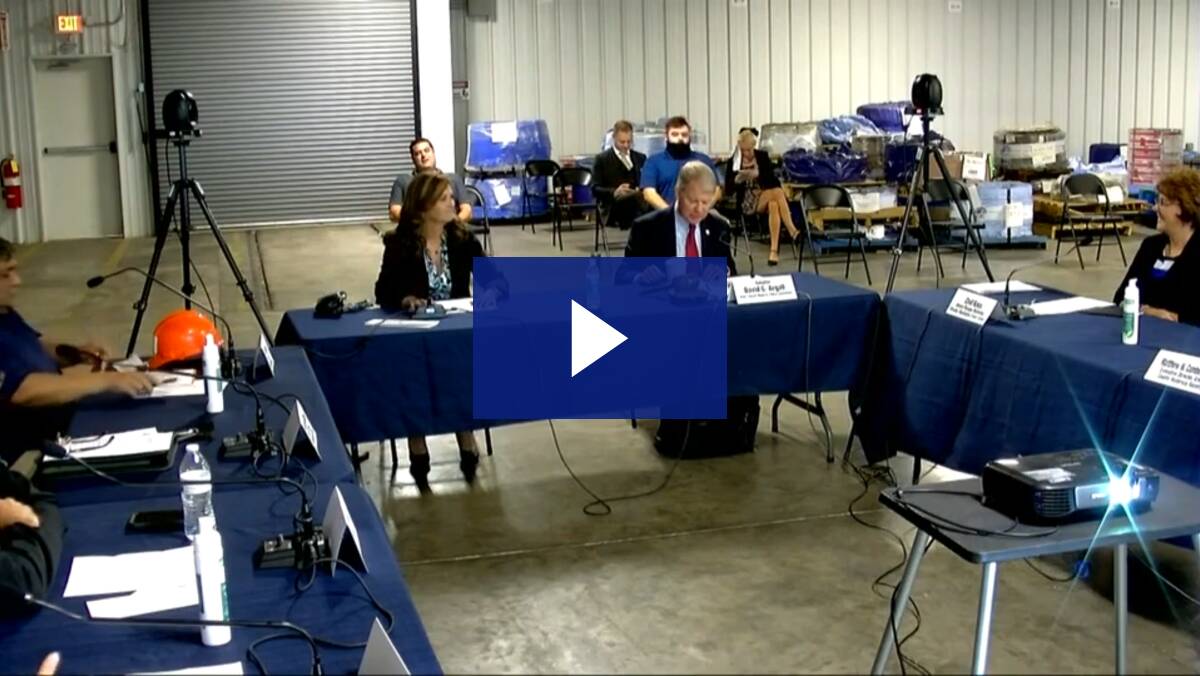 Finally, at the request of Senator Kristin Phillips-Hill (R-York), our committee held a workshop discussion in York on the prospects of a limited constitutional convention in Pennsylvania. The convention could address issues such as budgetary procedures and new checks & balances to limit the power of state government. The last constitutional convention held in Pennsylvania was in 1967.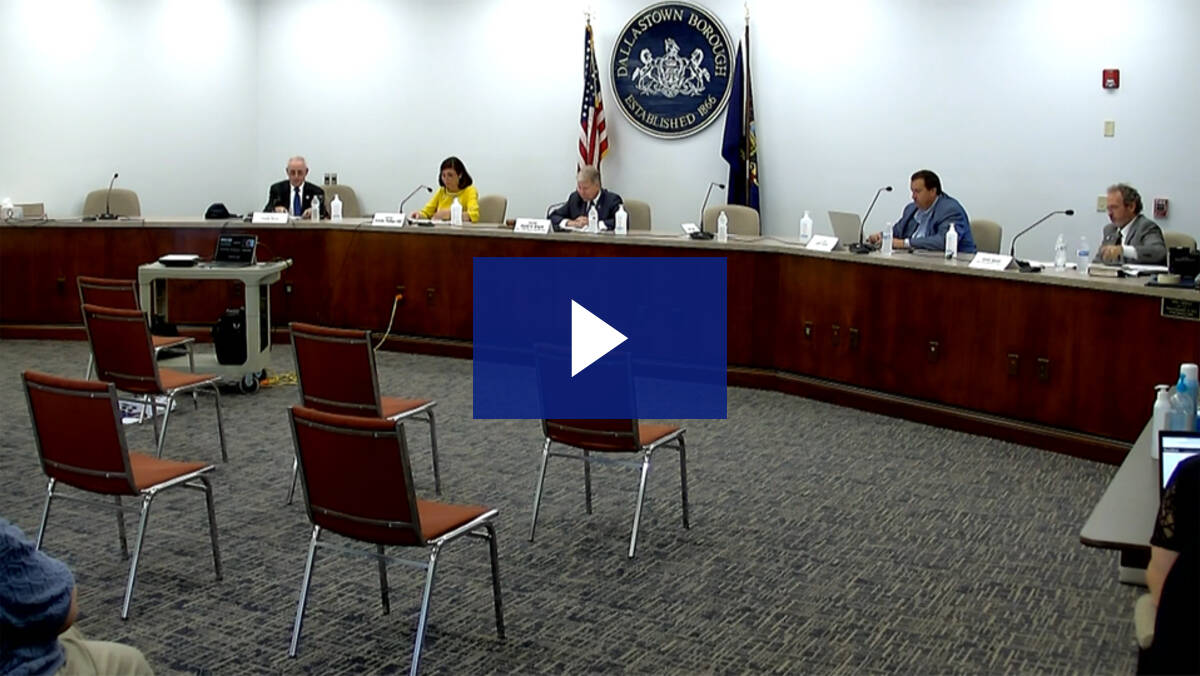 Federal Judge Rebukes Governor Wolf's Unconstitutional Orders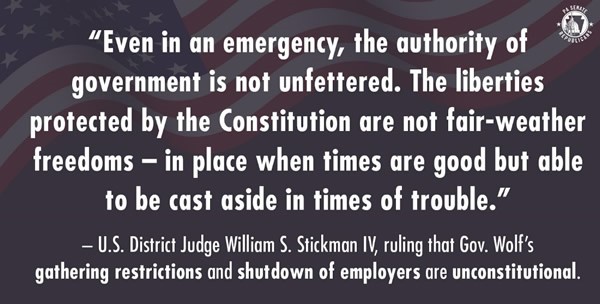 A federal judge has delcared that many of the unilateral mandates placed on Pennsylvanians by the Wolf administration have been unconstitutional throughout the COVID-19 pandemic.
U.S. District Judge William S. Stickman IV wrote, "The Constitution sets certain lines that may not be crossed, even in an emergency. Actions taken by the defendants crossed those lines. It is the duty of the Court to declare those actions unconstitutional." Stickman ruled that Wolf's orders violated components of the first and fourteenth amendments including the freedom of assembly, due process and equal protection clauses.
Stay tuned as this legal battle continues…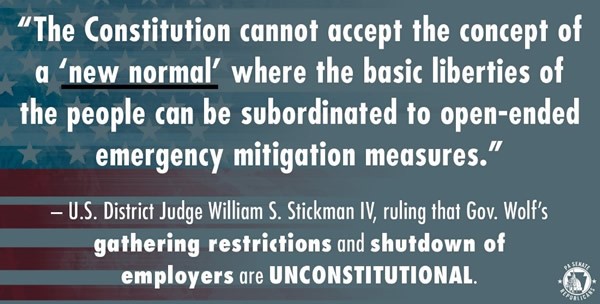 Lancaster Protestors Get $1 Million Bail- Lt. Governor Protests
The city of Lancaster was rocked by protests after an officer-involved shooting earlier this month. The incident involved an officer shooting and killing a man who charged him with a knife. A district judge set the bail for 6 protestors who were arrested at $1 million each. Lt Governor Fetterman tweeted out that this violated the 8th amendment of the Constitution, which does not allow for excessive bail. The bail was later reduced. You can read more here from Newsweek.
Senators Scott Martin (R-Lancaster) and Ryan Aument (R-Lancaster) praised the Lancaster Bureau of Police and the Lancaster County District Attorney's office for quickly releasing the body cam footage and for providing the highest level of transparency in the subsequent investigation.
In a joint statement, they said: "We remain hopeful that the extraordinary transparency and accountability of the Lancaster Police will ensure this unfortunate period of unrest will be an isolated incident. As always, we are deeply grateful for their efforts and those of the many supporting police departments to keep our communities safe during these most difficult circumstances."
The PA Taxpayer Cost of Protests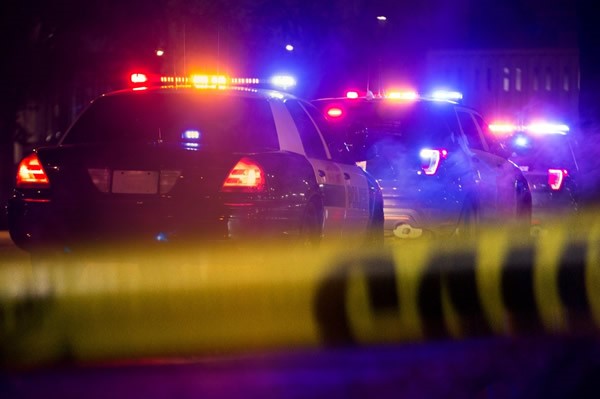 Since the early summer, parts of our country have been swept up in protests and riots over racial injustice. In order to ensure the safety of people and property, police were often deployed. Unfortunately, this has left taxpayers on the hook for a significant amount of money.
According to Pennsylvania State Police, overtime expenditures related to protests and civil unrest that began the weekend of May 30 totaled approximately $1.6 million, with at least 2,180 enlisted members earning overtime pay. The cost of damaged patrol vehicles and other equipment is approximately $108,665.
You can read more here.
U.S. Justice Department Investigating Governor's Handling of Nursing Homes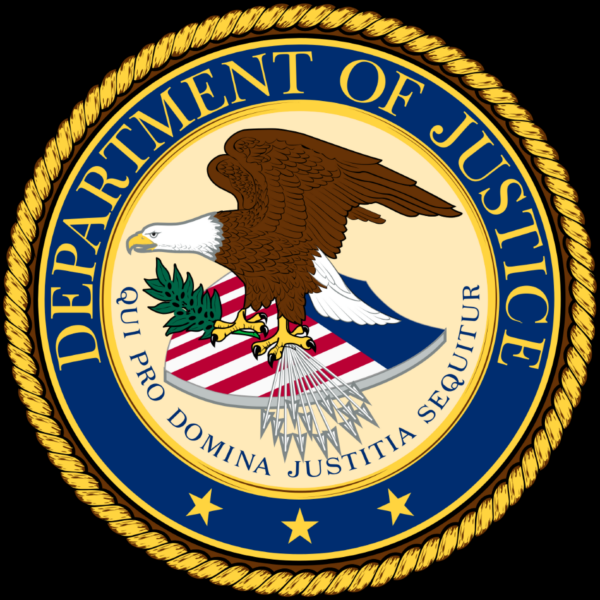 The U.S. Justice Department sent a letter to Governor Wolf and three other states alleging Governor Wolf required nursing homes to admit COVID-19 patients "often without adequate testing," which "may have resulted in deaths of thousands of elderly nursing home residents."
Pennsylvania has one of the highest numbers of nursing homes deaths due to COVID-19 according to the CDC. You can read more about this report here.
Legislation to Study PA COVID-19 Response
Senator Lisa Baker (R-Luzerne, Pike, & Wayne) is developing legislation to study the handling of the COVID-19 pandemic. The bipartisan commission will include those who are part of the response and those who are economically affected by shutdown orders including representatives of state and local governments, the courts, educational institutions, health care and human service providers, the business sector, tourism, agriculture, community and nonprofit organizations and professional groups.
I believe this bipartisan review is necessary, so we do not repeat the mistakes of the past if we are faced with a similar crisis in the future.
You can read more here.