Follow Sen. Argall on Twitter for Senate happenings – @SenatorArgall
For photos from Sen. Argall, follow him on Instagram

In this email update:
School property tax: no easy fight
Townships continue to grow in population
The Reading area brings in more people with more jobs
Walk in Art Center receives Community Initiative Award
---
School property taxes: no easy fight
Edwin Seligman, an American economist who was professor of political economy at Columbia University, stated in 1890 that the property tax was "the worst tax known in the civilized world". I have a feeling that Dr. Seligman would have a warm welcome if he ever visited the 29th District because over 77 percent of Berks County residents and over 69 percent of Schuylkill County residents voted in favor of property tax exclusion on last November's ballot.
However, some would have you believe that this tax is a safe and reliable way to fund our school districts. Here's a first – a new college textbook includes my arguments for the elimination of Pennsylvania's school property tax, as well as a similar paper in support of this tax by a professor at Dartmouth College. In the new copy of Pennsylvania Politics and Policy: A Commonwealth Reader, Dartmouth College economics professor Dr. William Fischel argued that the property tax is the best tax for schools. One of the main arguments he used: "The local property tax has the advantage of stability."
Though I appreciate Dr. Fischel presenting his argument in favor of keeping the tax, I don't believe we have the same definition of "stable". I think the problem with his notion of stability is the same exact reason why this tax hurts so many of my constituents. For example, when a senior retires and their income decreases, why do their property taxes need to increase? Is this the stability that Dr. Fischel and special interest groups speak of when they defend school property taxes? I think if we're going to talk about stability, then that term can only apply knowing that if you don't pay your taxes, you lose your home.
Dr. Fischel also referenced a study conducted almost 20 years ago where he wrote that states that reduced their reliance on local property taxes and increased state funds ended up with lower SAT scores. Under Senate Bill 76, I am happy to report that the bill DOES NOT remove local control, but rather removes a school board's ability to raise taxes every year. The revenue generated will still match current revenues dollar-for-dollar. We should also consider that Pennsylvania's overall state budget receives over 70 percent of its revenue from personal income and sales taxes. It only makes sense that school districts should rely more on these taxes which can better provide for the needs of our students and teachers.
I completely understand why some individuals and groups want to keep this tax. They think that because the tax has been in effect for so long, it is the best way to provide for our school districts. But this tax needs to be scrapped as soon as possible because it is not efficient for school districts nor fair for property owners. Sure the tax was enacted in the 1830s, but during that time teachers were paid partly in vegetables and children learned in one-room school houses.
I say now is the time to act and I continue to speak with the Senate's other 49 members about getting a vote for school property tax elimination for homeowners to the floor as soon as possible. In the words of former Senator John Stauffer (Chester):
"Although (the property tax's) use has become nearly universal, it is the most unfair, fastest-rising and most capricious tax. Property tax assessments and reassessments have become bywords for political manipulation."
Townships continue to grow in population
Suburban townships continue to be the fastest-growing municipalities in Pennsylvania. According to the Pennsylvania State Data Center, townships gained an average of 62.6 people between 2010 and 2017. 553 of the state's 1,547 townships saw their population grow since 2010.
As the townships grow, the same study also found declining numbers for boroughs and cities in the state. Boroughs lost an average of 26.3 people between 2010 and 2017 while cities lost an average of 395.8 people.
According to the United States Census Bureau, Schuylkill County declined in population by 3.9 percent from 2010. However, PA Career Link Schuylkill County found that the county has recently been an upswing with more employers in need of more workers. With more than 1,300 jobs available on the Pennsylvania Career Link website, I believe that more people will be coming to the county to seek employment.
As a result of an increase in economic opportunities, Berks County grew in population by 1.5% percent. More information on the growth of the area can be found in a separate article provided below.
The Reading area brings in more people with more jobs
The Reading area is growing bringing more jobs and people to Berks County. As you can see from the chart below, the population is expected to grow by 20 percent by the 2040.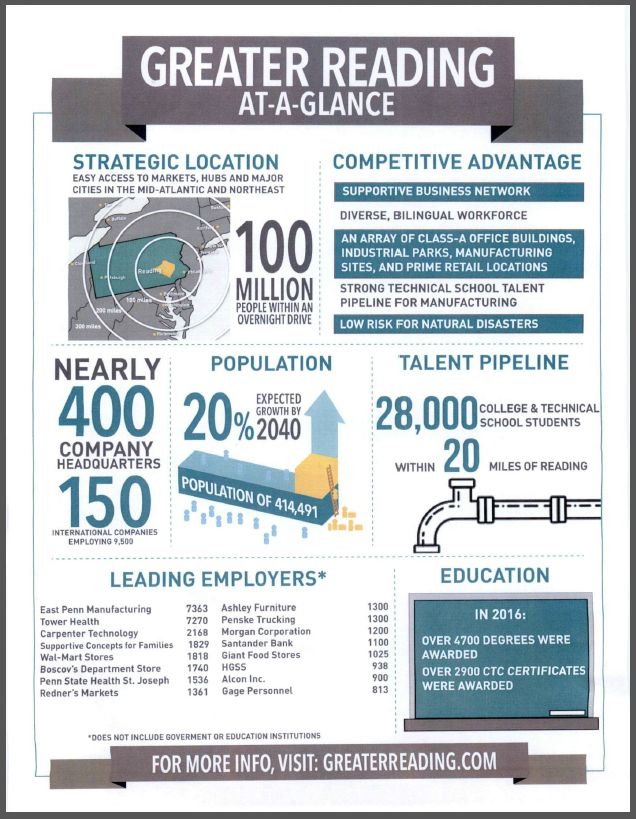 Leading employers providing jobs and opportunities to residents include East Penn Manufacturing, Tower Health, Carpenter Technology, Supportive Concepts for Families, Wal-Mart Stores, Boscov's Department Store, Penn State Health St. Joseph, Redner's Markets, Ashley Furniture, Penske Trucking, Morgan Corporation, Santander Bank, Giant Food Stores, HGSS, Alcon Incorporated and Gage Personnel.
All together, these top employers hire almost 34,000 people.
Walk in Art Center receives Community Initiative Award
The Walk In Art Center in Schuylkill Haven was recently award the Community Initiative Award by the Pennsylvania State Historic Preservation Office.
The center houses 16 individuals creative studios for working artists, the WIAC Haven Gallery, the Main Gallery, the Community Gallery, rotating exhibits, activities for youth, diverse events and a college classroom. The center celebrates the arts through various fundraisers and events hosted throughout the year.