Follow Sen. Argall on Twitter for Senate happenings – @SenatorArgall
For photos from Sen. Argall, follow him on Instagram

In this email update:
Flood recovery information for residents
Fighting the Spotted Lantern Fly
Kids in hot cars
The 64th Annual Schuylkill County Firefighter's Convention
Chronic Wasting Disease event next week
Bitten, now what?
New Philadelphia celebrates its 150th birthday
Flood recovery information for residents
For those residents and businesses of Schuylkill County that were impacted by last week's flooding, you can now report your damages directory to the County at the link provided here. Information provided on the website will be collected and logged by the Pennsylvania Emergency Management Agency Damage Reporting System. Pennsylvania had recently requested a Presidential Declaration of Disaster.
Schuylkill County veterans affected by the flood may also be eligible for a $1600 grant from the state if their homes were affected by the flood. To determine eligibility, please contact the Schuylkill County Veterans Affairs office at 570-628-1400.
For those residents in Berks County who have been affected by the recent floods, the link to the Berks County Department of Emergency Services can be found here.
Fighting the Spotted Lantern Fly
In an effort to eradicate these nuisance insects, the Pennsylvania Spotted Lanternfly Coalition has been looking at all possible solutions of controlling this invasive species. The coalition is made up of the Pennsylvania Department of Agriculture, the United States Department of Agriculture and Penn State University.
Native to China, India and Vietnam, the Spotted Lanternfly was first discovered in Pennsylvania in 2014 in Berks County. Since then, it has infested 174 square miles in 2016 and more than 3,000 square miles of southeastern Pennsylvania by the end of 2017 and is responsible $18 – $20 billion in agricultural losses in Pennsylvania.
Tree bands are recommended from May through early November in the arsenal for containment and proper disposal of the Invasive Spotted Lanternfly, according to the Penn State Extension.
The Department of Agriculture says that if you see egg masses, scrape them off and dispose of them. You should also report where you found the eggs at the link provided here.
Kids in hot cars
On average, every 10 days a child dies from heatstroke in a vehicle, according to Safe Kids Worldwide, (SKW) consisting of more than 400 U.S. coalitions, including Safe Kids PA, and representatives from more than 30 countries.
"ACT" on recommendations to reduce injuries and death due to heat stroke:
Avoid leaving a child alone in a car. Lock all vehicles and store keys out of sight and reach of children.
Create reminders, such as a stuffed toy removed from the child's car safety seat and placed in the front passenger seat when the car safety seat is occupied by a child. Place your purse, briefcase, or phone on the back seat when a child is in the car. Create a drop-off reminder on your phone or computer calendar.
Take action upon seeing a child alone in a car. Call 911 for trained emergency personnel to respond.
Even at 60 degrees, a parked vehicle with closed windows becomes an oven in a matter of minutes. Throw in dark seats and the heating factor increases. In the nineties, a closed vehicle reaches 125 degrees within 20 minutes. During a span of 40 minutes, that same vehicle in 90 degree heat will reach 140 degrees.
The 64th Annual Schuylkill County Firefighter's Convention
On Sunday, I attended the 64th annual memorial service for the Schuylkill County Firemen's Convention. This was a very impressive ceremony dedicated to our local volunteer fire services who work each and every day to ensure the safety of our fellow citizens.
Convention events are scheduled to continue this weekend with a parade starting at 1:00 P.M. at the H.H. & L. Fire Co. in Pine Grove on Saturday. Refreshments will be available after the parade and an awards ceremony for best parade entries will also take place.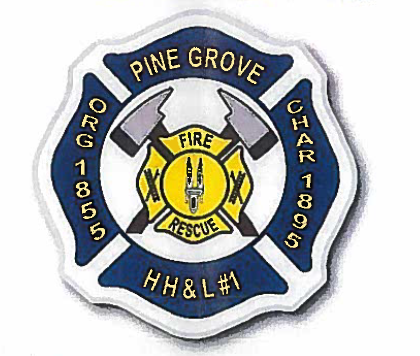 Chronic Wasting Disease event next week
On Wednesday, August 29th, Representative Barry Jozwiak (Berks) will be holding a forum at Schuylkill Valley High School regarding Chronic Wasting Disease in our deer population. You can see the details of the event on the poster below.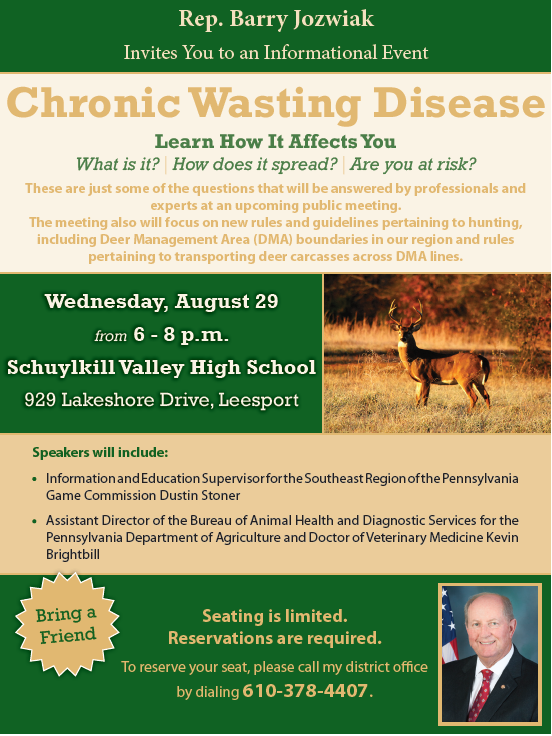 Bitten, now what?
Every summer, outdoor enthusiasts are reminded to avoid situations and conditions conducive to tick and mosquito exposure. Lyme Disease and West Nile Virus may be lurking from those nearly inevitable bug bites, according to the Pennsylvania Department of Health. Left untreated, both Lyme and WNV may lead to serious life-long health concerns including neurological conditions.
Lyme Disease, caused by a bacteria, may begin with a bull's eye rash, fever, chills, headache, fatigue, muscle and joint aches, and swollen lymph nodes. Following a two- to four-week course of antibiotics prescribed by a physician, recovery usually occurs quickly. Untreated Lyme may spread to joints, the heart, and the nervous system.
West Nile Virus symptoms, typically last a few days, similar to the flu, may include a fever, headache, body aches, rash, and swollen lymph nodes. While less than one percent of those exposed to WNV will develop a severe illness, hospitalization for intravenous fluids, pain medication, and nursing care may be necessary. Symptoms may last for weeks and neurological effects may be permanent and severe.
New Philadelphia celebrates its 150th birthday
Last Wednesday I presented a citation to celebrate the 150th anniversary of the founding of New Philadelphia. Incorporated in 1868, the town served as an important mining town for anthracite coal.
The 150th celebration featured vendors, great food and fireworks. Here's to another great 150 years!