Follow Sen. Argall on Twitter for Senate happenings – @SenatorArgall
For photos from Sen. Argall, follow him on Instagram

In this email update:
Helping our struggling dairy farmers
Higher education assistance to Schuylkill and Berks Counties
Dedication service at 23 Meadowbrook Center
Secretary Rivera hosts Conrad Weiser High School STEM team
125 years serving the Robesonia community
Congratulations to Benjamin Kinlaw
---
Helping our struggling dairy farmers
As a result of years of declining milk prices and milk consumption, many dairy farmers across the state are suffering financially. Because milk prices are down 40 percent since 2014, many dairy farmers are losing money on a daily basis and the northeastern United States has an over-supply of milk. At a previous meeting of the Senate Agriculture and Rural Affairs Committee, Secretary Redding stated that 17 percent of U.S. dairy is exported and he believes that Pennsylvania can tap more into that market.
In our continuing effort to help struggling dairy farmers, the recently passed state budget has allocated an additional five million dollars in funding to help with the ongoing dairy crisis. Because of the current difficulties in the dairy market, this new funding will help farmers and processors adapt to the ever changing milk price and will help guarantee a mutual benefit for both the consumer and the producer.
The new funding is specifically dedicated for dairy research and development, organic transition, value-added processing (increases the value of dairy by processing it into popular products like ice cream) and marketing grants to support the state's dairy producers working to maintain the viability of their day-to-day work.
A list of options and resources for dairy farmers can be found at the link provided here.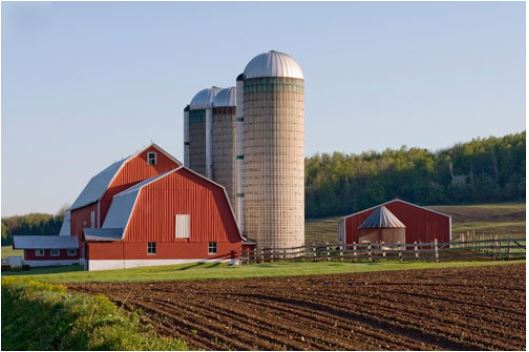 Higher education assistance to Schuylkill and Berks Counties
The Pennsylvania Higher Education Assistance Agency (PHEAA) is responsible for administrating several higher education student financial programs. Recently, the agency provided a report to my office detailing how the 29th Senatorial district has benefited from these programs:
There were 108 recipients of the Ready to Succeed Scholarship (RTSS) program earning a total amount of $169,464. There were 3,096 recipients of the Pennsylvania State Grant program earning a total amount of $8,083,556.
If you or someone you know is planning on how to effectively handle their student loans, be sure to visit PHEAA's MySmartBorrowing planning tool. You can find the link to the webpage here.
Dedication service at 23 Meadowbrook Center
On Sunday, I attended the dedication service of the 23 Meadowbrook Center in Wayne Township. I presented a Senate citation to the Bethesda Evangelical Congregational Church which has transformed the property.
What was once the local state police barracks, the facility will soon be opening as a new community center. Congratulations to all those involved in the process. Your hard work has certainly paid off. A special thanks to Jim Miller and his family for the very generation donation of this property!
Secretary Rivera hosts Conrad Weiser High School STEM team
On Wednesday, Pennsylvania Department of Education Secretary Pedro A. Rivera hosted students from the Conrad Weiser High School (Berks County) STEM team. The team highlighted their patent-pending technology designed to treat wounds and heal tissue.
A part of the school's Science Research Institute, the five-member STEM team developed a wound measurement app which records and documents a patient's wounds. The captured image is then transferred to a 3D-printer to generate a personalized bioactive glass-embedded bandage. The bioactive glass composition helps to prevent infection and promotes healthy cell proliferation.
The students from Conrad Weiser High School placed second in the Governor's STEM Competition in May and each member of the team earned a $1,000 scholarship.
125 years serving the Robesonia community
On Saturday, I presented a Senate citation to the Pioneer Hose Company No. 1 in Robesonia for their 125 years of serving the community. The fire company is 100 percent volunteer and provides services not only to the Robesonia Borough, but also to Heidelberg Township and North Heidelberg Township.
In addition to celebrating their many years of operation, the fire company also dedicated its new firetruck, a 2017 Rosenbauer Tanker.
Congratulations to Benjamin Kinlaw
Sometimes it really is a "small world." Imagine my surprise, while representing a Senate district of more than 250,000 people, to learn that this year's recipient of the Good Citizenship Award from my office, as selected by leaders of the Bethel Elementary School in the Tulpehocken School District in western Berks County, is a distant cousin. To further celebrate this remarkable series of events, I invited Benjamin to meet with me at my Harrisburg office and to our beautiful state capitol building for the first time.
If you are interested in touring our Capitol which President Theodore Roosevelt once claimed as "the handsomest state capitol I have ever seen", tours take place Monday through Friday from 8:30 A.M. to 4:00 P.M. On Saturdays, Sundays and most holidays, tours take place at 9:00 A.M., 11:00 A.M., 1:00 P.M. and 3:00 P.M.
To schedule a tour or to find more information regarding our state capitol building, be sure to visit the link provided here or call 1-800-868-7672.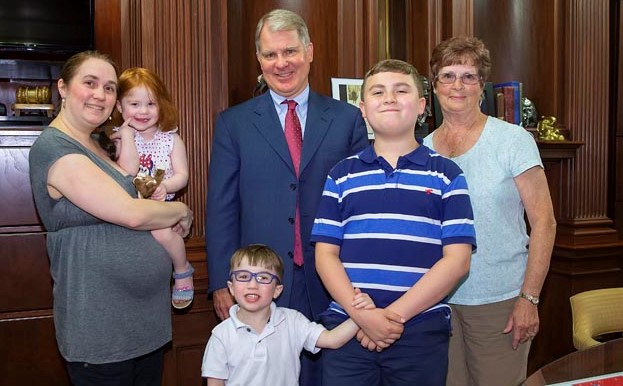 This gave me the opportunity to tell Benjamin, his younger brother John, his younger sister Hailey Beth, his mother Alicia and his grandmother Ann Marie something I had only learned in the last few years: His great-grand father, Bill Urban, my father's cousin, was the main reason why my father was able to attend college at Kutztown State in the 1950s. Bill Urban helped to hire my dad for a job on road drilling projects across southeastern Pennsylvania for several summers. It was a difficult job, but it paid the tuition bills which allowed my father to begin his long career as a school librarian.
Congratulations to young Benjamin and all of the other 2018 Good Citizenship Award recipients across Berks and Schuylkill Counties!