Follow Sen. Argall on Twitter for Senate happenings – @SenatorArgall
For photos from Sen. Argall, follow him on Instagram

In this email update:
The Greater Reading Area continues to grow
Increasing fines for littering
Helping seniors cope with mental illness
Joyce Spotts attends the Congress of Future Medical Leaders
Revitalizing our cities and towns
Teacher pay in PA
Micah Ulicny becomes an Eagle Scout
---
The Greater Reading Area continues to grow
The Greater Reading Area continues to grow bringing both people and jobs to our local communities. The population of the area is expected to grow by 20 percent in the next 20 years.
In terms of education, there are over 28,000 college and technical school students within 20 miles of Reading. In 2016, over 4,700 degrees were issued to graduates and over 2,900 CTC certificates were awarded.
Looking at employment, there are nearly 400 company headquarters in the area that employ 9,500 people. The area also hosts 150 international companies. Some of the leading employers for the area include East Penn Manufacturing, Tower Health, Carpenter Technology, The Penn State Health St. Joseph Medical Center, Redner's Markets, Penske Trucking and Gage Personnel.
More information on the economic and population outlook of the Greater Reading Area can be found here.
Increasing fines for littering
The Governor recently signed Senate Bill 431 which will increase the fines and penalties for littering.
The first violation carries a penalty of $50 to $300 and requires the offender to pick up litter for 5 to 30 hours which must be completed within 6 months of the offense.
The penalty for the second and each subsequent violation will now carry a penalty of $300 to $1,000 and the offender can be sentenced either to prison or community service by picking up litter for 30 to 100 hours which must be completed within one year of the offense.
We must all do our part to keep Pennsylvania beautiful!
Helping seniors cope with mental illness
Many seniors across our Commonwealth find themselves coping with mental illness. The below links provide valuable information for seniors that may be experiencing difficult situations. These links were provided to me by Dorothy Watson of Orwigsburg who co-founded the website mentalwellnesscenter.info.
Preventing Social Isolation in Seniors Who Live Alone: A Guide for Loved Ones
Depression in Older Adults: Recognizing the Signs of Elderly Depression and Getting Treatment
Healing After a Lifetime of Struggling with Addiction: The Senior's Guide to Reconnecting with Adult Children
How to Help a Loved One with Alzheimer's Plan Final Arrangements: A Guide for Caregivers
Why Yoga and Meditation Can Benefit Seniors
Placing a Parent in a Nursing Home: How to Make It Easier
Joyce Spotts attends the Congress of Future Medical Leaders
Last week, Joyce Spotts of Minersville attended the Congress of Future Medical Leaders in Lowell, Massachusetts.
The National Academy of Future Physicians and Medical Scientists held this event for students interested in the medical field. Students are nominated to attend the event by teachers, counselors or principals. The event featured speakers that talked about the latest advancements in medical science and students were also able to observe a live surgery that was taking place in an operating theater.
Joyce will be a freshman at Minersville High School this year and one day hopes to become an emergency surgeon.

Revitalizing our cities and towns
Pennsylvania has many great cities and towns that help tell the history of our Commonwealth. The Senate redevelopment financing plan had been utilized in Pennsylvania's third largest city, Allentown. Through the collective work of our members, you can see the results of the hard work that was done in the video provided here.
PennLive had written this article about Lancaster and how the city is beginning to thrive again. Since the early 2000's, the city has been revitalizing itself after years of struggling.
Pottsville also continues to re-invent itself by tackling blight and creating more opportunities for new residents to come to the city. Many efforts are being carried out by the Downtown Pottsville Strategic Revitalization Plan which has outlined a variety of goals.
Teacher pay in PA
The National Conference of State Legislatures has found that when it comes to pay, Pennsylvania has the 10th largest starting salary for teachers in the country.
Information gathered from the National Center for Education Statistics and the NEA Collective Bargaining/Member Advocacy's Teacher Salary Database found that the average starting salary for a teacher in the state was $44,144.
The 2018-19 enacted budget includes $6,095,079,000 for basic education funding. This amount is a $100,000,000 increase (1.7 percent) over the 2017-18 appropriation.
Micah Ulicny becomes an Eagle Scout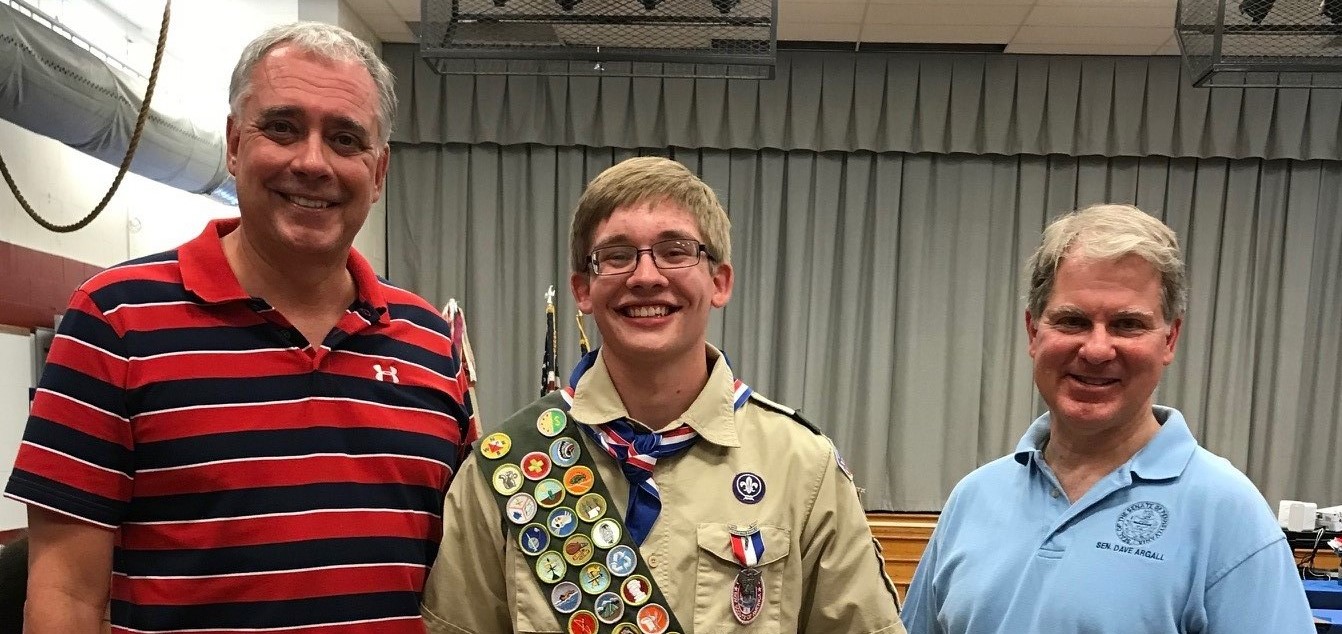 Last Saturday, I attended the court of honor ceremony for Micah Ulicny of Troop No. 662 in Valley View. Micah has earned a total of 34 merit badges and has served his troop in a variety of ways. I am pictured with the new Eagle Scout below with Representative Mike Tobash (Schuylkill/Dauphin.)