Follow Sen. Argall on Twitter for Senate happenings – @SenatorArgall
For photos from Sen. Argall, follow him on Instagram

In this email update:
3,100 people join my tele-town hall!
Helping our dairy farmers
We need to help our state-owned universities
Governor Wolf congratulates our Blight Task Force on four victories!
Proposal to shrink the House passes the Senate
16-year olds voting?
Bills passed this week
---
3,100 people join my tele-town hall!
Tuesday night, I spent an hour with 3,100 constituents from Berks and Schuylkill counties to discuss a variety of topics during a telephone town hall. I answered your questions about jobs, welfare reform, education, the state budget and more. You can listen to the full tele-town hall and sign up for future events here.
School property taxes was a hot button issue. I asked if you would support eliminating school property taxes for homeowners by raising the income tax to 4.76 percent and the sales tax to 7 percent.
The results: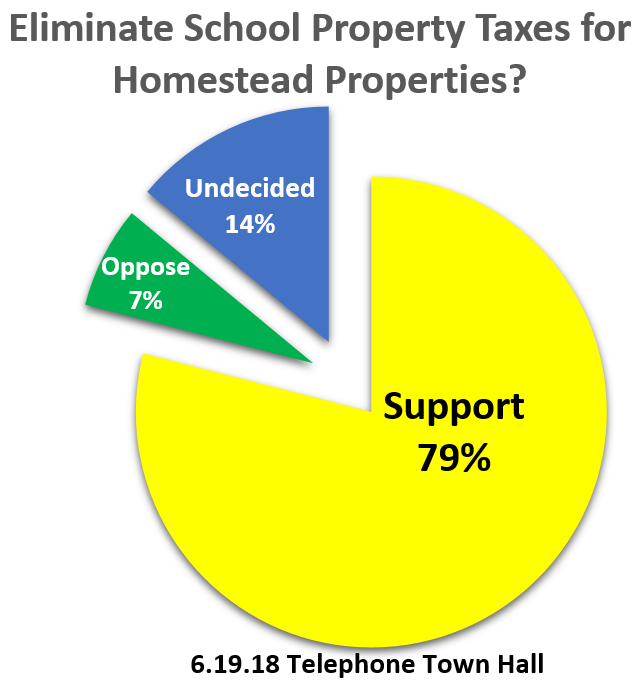 Another issue being debated in the legislature is whether local police should be given radar guns for the purpose of ticketing speeding drivers. Based on your responses below, it seems most of you believe this will improve safety in our communities.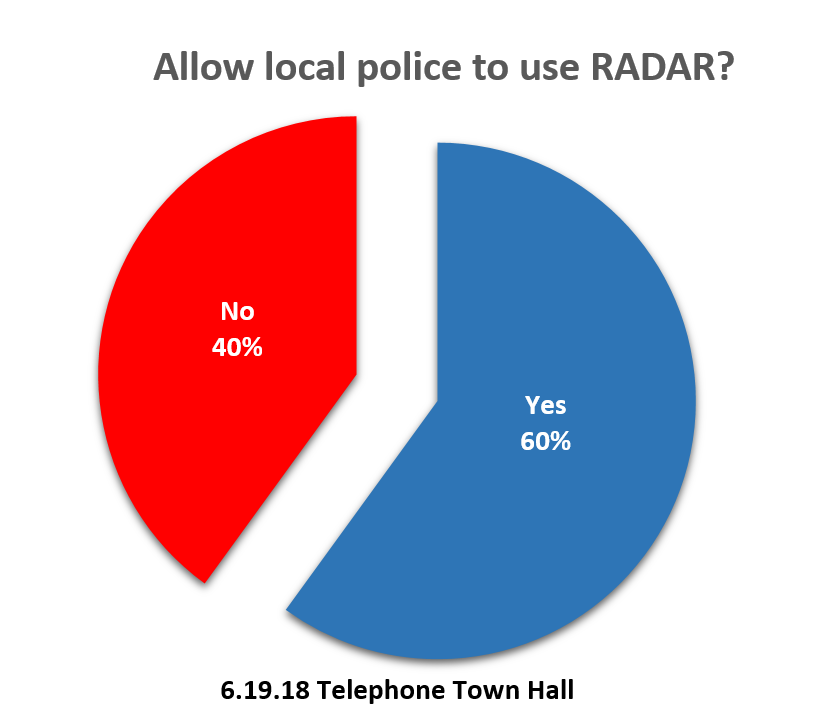 Friday morning, I held a Town Hall meeting with Representative Barry Jozwiak (Berks) and 69 of our constituents in Strausstown. I listened to your concerns on a variety of issues including property tax reform, welfare reform, gun control and prison reform.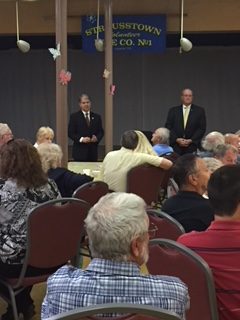 Helping our dairy farmers
On Tuesday, I joined the Senate Agriculture and Rural Affairs Committee to listen to recommendations on how to improve the lives of Pennsylvania's dairy farmers. Due to low milk prices, dairy farms across our Commonwealth have been struggling. Secretary Redding stated that 17 percent of U.S. dairy is exported, and he believes that Pennsylvania can tap more into that market.
The full hearing can be found here.
Senator Ryan Aument (Lancaster) proposed Senate Resolution 382 which would urge the Food and Drug Administration to enforce existing guidelines regarding the identity of milk. Plant-based milk substitutes (soy, almond, coconut) contain no actual milk. The FDA needs to use its power to regulate any falsely-advertised or mislabeled product. This resolution passed unanimously in the Senate Agriculture and Rural Affairs Committee on June 13 before being adopted by the Senate.
We need to help our state-owned universities
After several years of declining enrollment at many of the universities of the Pennsylvania State System of Higher Education (PASSHE), the status-quo is no longer acceptable. I DO NOT BELIEVE that any of the universities need to be closed, but real action needs to be taken now!
Based on recommendations from the RAND Corporation, who studied the financial difficulties of the State System, I asked you during my Tuesday telephone town hall what should be done to help the PASSHE schools. You can see how you answered below: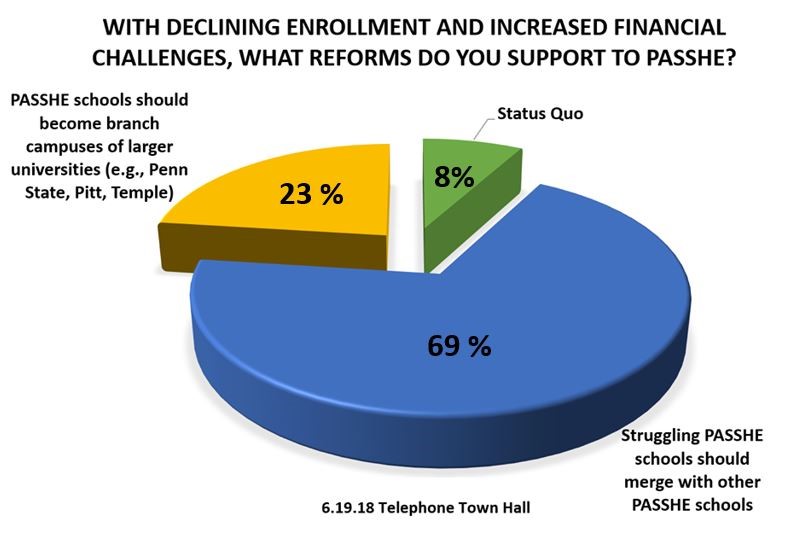 69 percent of you believe that the PASSHE schools experiencing the most difficulty should merge with other schools while 23 percent believe PASSHE schools should become branch campuses of larger universities. Only eight percent of my constituents believe in keeping the status quo.
"These bills are important to help local communities more swiftly address blight and I commend the bipartisan Blight Task Force for its continued dedication to this important cause" – Governor Tom Wolf
Governor Wolf congratulates our Blight Task Force on four victories!
On Tuesday, my bill Senate Bill 851 became law. This legislation amends the Real Estate Tax Sale Law to clarify who truly owns properties that are in the delinquent tax sale process.
This law now clarifies that ownership responsibilities for a delinquent property will remain with the owner of record until the property is actually sold and the deed is transferred. We can now hold more negligent owners responsible for the violations that they commit!
The Governor also signed House Bill 653 into law which provides for the accelerated foreclosure process for vacant and abandoned properties. Communities across the Commonwealth struggle with these properties that do nothing but bring down surrounding home property values and create a giant eyesore for the community. The Statewide Blight Task Force, which I chair, helped with the passage of this legislation which was a result of years of bipartisan hard work.
Senate Bill 667 was also signed into law to grant redevelopment authorities the same powers currently allotted to land banks in order to increase opportunities to combat blight in communities therefore saving both time and money.
Last Friday, I spoke at a groundbreaking for a planned multimillion dollar affordable housing complex in Frackville called the Cherry Street Commons. Public-private partnerships like this are needed to continue fighting blight. I have no doubt that this project will be successful, and I look forward to returning for the grand opening ceremony!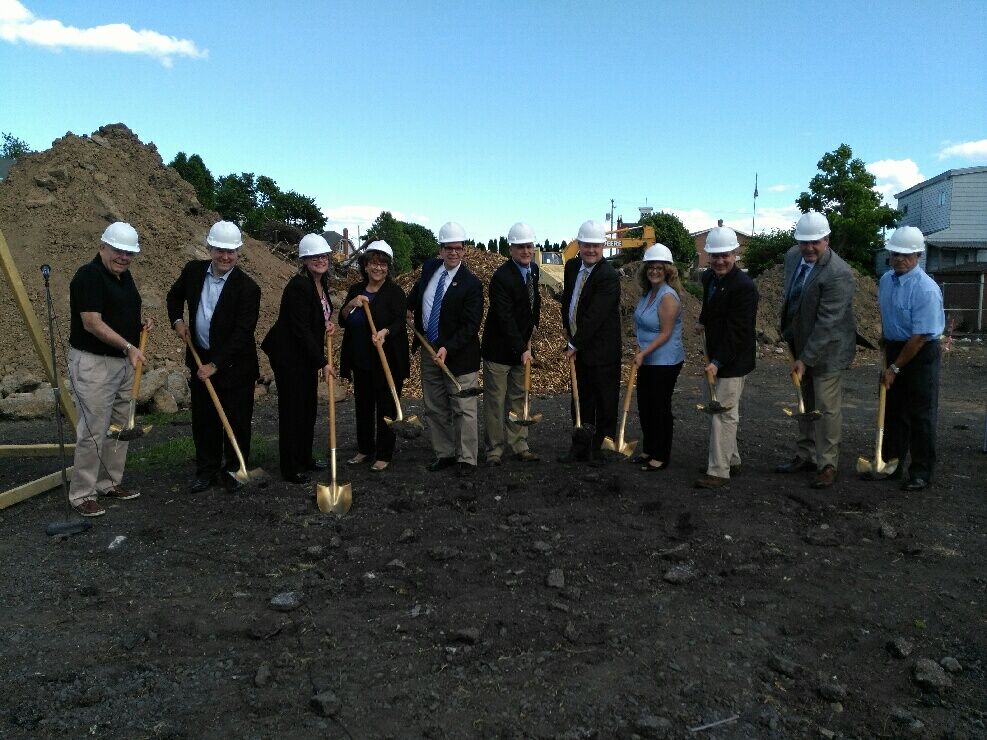 Proposal to shrink the House passes the Senate
On Thursday, I voted with 42 of my colleagues in the Senate to reduce the size of the Pennsylvania House of Representatives. This is an issue I have supported since I wrote a term paper about it in 1978 when I was studying at Lycoming College.
House Bill 153, proposed by Representative Jerry Knowles (Schuylkill/Berks/Carbon) would reduce the chamber from the current 203 members to 151 members. To become law, the proposal must pass two consecutive sessions of the General Assembly and be approved by the voters through a referendum.
16 year olds voting?
There was a proposal earlier in the year to lower Pennsylvania's voting age from eighteen to sixteen. This is a topic that attracted my attention, and I asked you during my Tuesday telephone town hall what you thought of this proposal. The results below show that it's pretty obvious what this district thinks of this idea.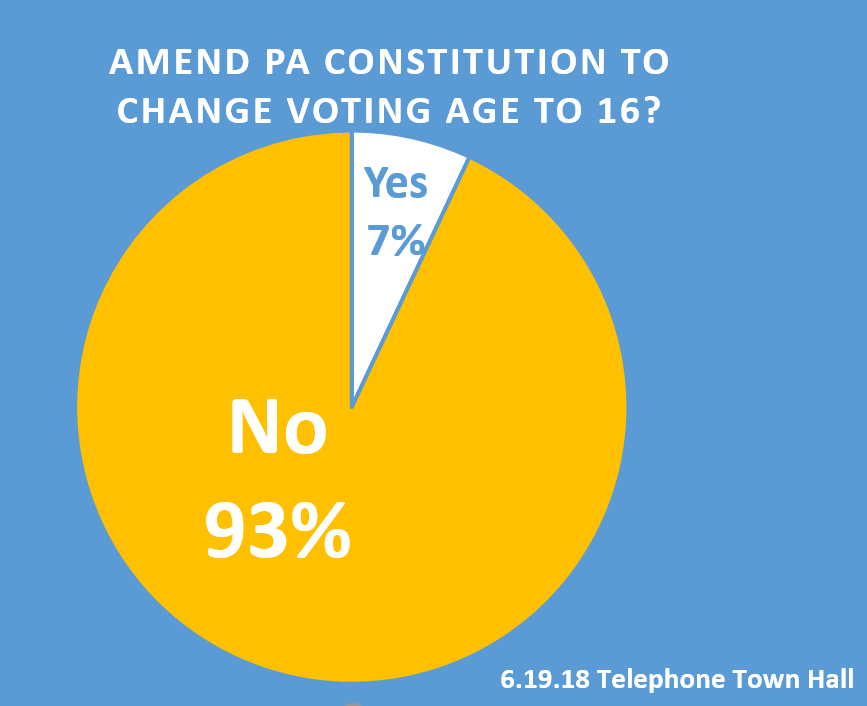 Bills passed this week
For a recap of the bills passed by the Senate this week, click here.