Follow Sen. Argall on Twitter for Senate happenings – @SenatorArgall
For photos from Sen. Argall, follow him on Instagram

In this email update:
We have a labor shortage yet our social assistance programs continue to expand
Fighting welfare fraud and abuse in Pennsylvania
Local high school students win Altruism Awards
Redistricting reform passes the Senate
Looking at our rural prisons
Beer, dogs and grills this summer
Royalty comes to Harrisburg
On Deck
We have a labor shortage yet our social assistance programs continue to expand
On Tuesday, I convened the second of two briefings by the Senate Majority Policy Committee on the issue of welfare reform. Dr. Ron Haskins, a senior fellow at the Brookings Institution, briefed senators on his research regarding the success of work requirements in lifting people out of poverty.
In explaining his research, Dr. Haskins stated:
"I would carefully quiz the [administration] over what they are doing…These individuals need skills that are marketable in the local economy by working with community colleges."
We have a labor shortage, yet our social assistance programs continue to expand. In my opinion, the best anti-poverty program is a job that pays the bills and we need to make that link. We need to break the cycle of poverty in communities all across the state!
Fighting welfare fraud and abuse in Pennsylvania
Continuing in our fight against welfare fraud and abuse in the Commonwealth, the Senate Appropriations Committee unanimously passed my bill, Senate Bill 891.
This bill amends the State Lottery Law to require the Pennsylvania Department of Aging cross-check their list of PACE (Pharmaceutical Assistance Contract for the Elderly) and PACENET (PACE Needs Enhancement Tier) beneficiaries with death records maintained by the Pennsylvania Department of Health.
When my own father passed away in 2015, he was still receiving letters a year after his death to encourage him to apply for food stamps! With these letters I began to think how easy it could be for someone to collect welfare disguised as a person who may have recently passed away.
With this legislation, we will improve efficiency and operations in the program and save Pennsylvanians money. We shouldn't be providing benefits to individuals who have recently passed away and we especially shouldn't make it easy for welfare frauds to steal from the taxpayer's pocket!
Local high school students win Altruism Awards
Post Q of the Pennsylvania Division of the Travelers Protective Association of America recently honored local winners of the Altruism Award in Mahanoy City. In celebration of their accomplishment, I also issued these students a congratulatory citation from the Senate.
Altruism Award winners include: Elizabeth Berger (Blue Mountain Area), Kailee Kaufman (Mahanoy Area), Zachary Falls (Marian Catholic), Caitlin Sternick (Minersville Area), Emily Yordy (Nativity B.V.M.), Alex Guenther (North Schuylkill Area), Hannah Joyce (Pottsville Area), Ashley Strouphauer (Schuylkill Haven Area), Lauren Petritsch (Shenandoah Valley) and Isaiah Kupchinsky (Tamaqua Area.)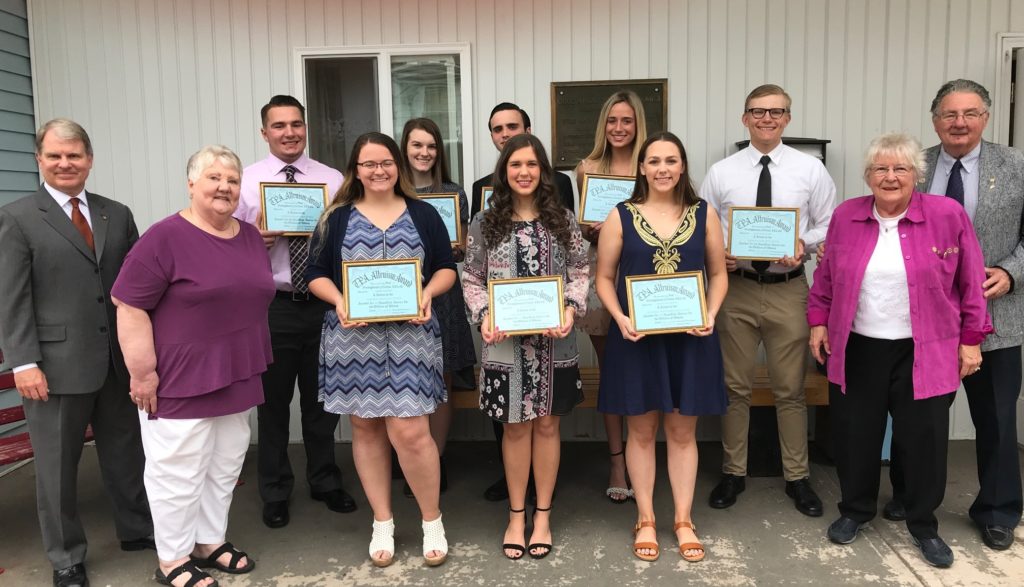 Redistricting reform passes the Senate
On Wednesday, the Senate passed Senate Bill 22 sponsored by Senator Lisa Boscola (Lehigh/Northampton.) This legislation would reform the way that legislative and congressional districts in Pennsylvania are re-drawn by establishing an 11-member Independent Citizens Redistricting Commission
The issue of redistricting has been a hot-topic issue in Pennsylvania this year. After passing both the Senate State Government Committee and the Senate Appropriations Committee, the full Senate agreed to send the bill to the House of Representatives.
Before a final vote, Senator Ryan Aument (Lancaster) offered an amendment that would also allow voters in the Commonwealth to decide whether appellate judges should be elected regionally rather than the current state-wide races that take place. Currently, only 15 of Pennsylvania's 67 counties are home to a state Appellate Court Judge.
If approved by the House, Pennsylvanians would be given the opportunity to vote on two separate issues as constitutional amendments: the redistricting measure and the regional judge elections.
Looking at our rural prisons
Last week, the Philadelphia Inquirer published an article asking if the rural prison economy can survive the era of decarceration. In the article, they profiled my legislation (Senate Bill 748) which I am planning to present before the House State Government Committee on Monday June 18.
Senate Bill 748 would delay any planned prison closure to allow time for public input. When the Governor announced the last round of prison closures last year, it frightened the local communities that host these prisons because many residents are employed by these institutions.
Senate Bill 748 unanimously passed both the Senate Appropriations Committee and State Government Committee before being passed by the Senate on March 27 by a vote of 47 to 1.
Beer, dogs and grills in summer
Pennsylvania ingredients and natural spring water combined by early German immigrants built the foundation for today's brew pubs and small breweries located across the Commonwealth. PA's list of Top 15 Craft Brews begins in Pottsville with Yuengling Brewery, the oldest brewery in the U.S.
Passed in 2017, Libre's Law is intended to protect illegally tethered dogs from extreme temperatures in the summer by restricting tethering to less than 30 minutes when the Fahrenheit temperature rises above 90 degrees and drops below 32 degrees. Report animal cruelty to your Local Humane Society Officer, local or PA State Police, or your County District Attorney. Penalties for violating PA's dog law range from a summary offense to a misdemeanor of the second or third degree to a felony of the third degree. Fines, depending upon the violation, may range from $5,000 to $15,000. Restitution of veterinary costs may also be imposed under certain conditions.
Summer time means cooking outside but be safe around grills. Annually, grills, hibachis and barbeques are the source of 9,600 home fires including 4,100 structure fires and 5,500 outside or unclassified fires. Emergency rooms across the country see some 16,600 patients for grilling injuries, including 1,600 children under the age of five suffering from burns. Fifty-eight percent of grill fires occur from May through August. NFPA recommends grilling a minimum of ten feet from structures, including buildings, balconies, and combustible materials. Fire pits should not be used within 25 feet of a structure or combustible material.
Royalty comes to Harrisburg
On Tuesday, Youth Leadership Royalty from the Pennsylvania State Grange came to the state capitol. Representing the interests of rural Pennsylvania, they were chosen as Youth Leadership competitively.
My constituents in the photo below are Junior Princess Autumn Tworkoski from Bernville, Youth Ambassador Jacob Mengel from Kutztown, and Outstanding Youth Patron Andrew Kieffer from Bethel.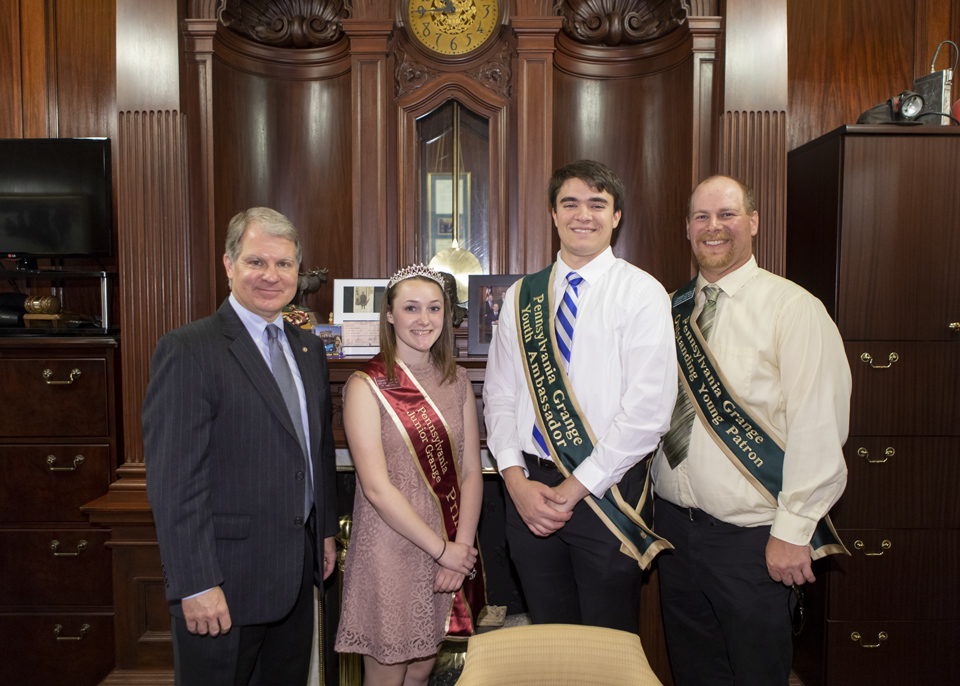 On Wednesday, I had the pleasure of meeting with Winter Carnival Queen Alexandra Mullin, Winter Carnival Snowflake Princess Mikaela Tobash and Snowdrop Princess Kali Grochowski.
These talented young women represent the annual Greater Pottsville Winter Carnival and I was happy to meet with them.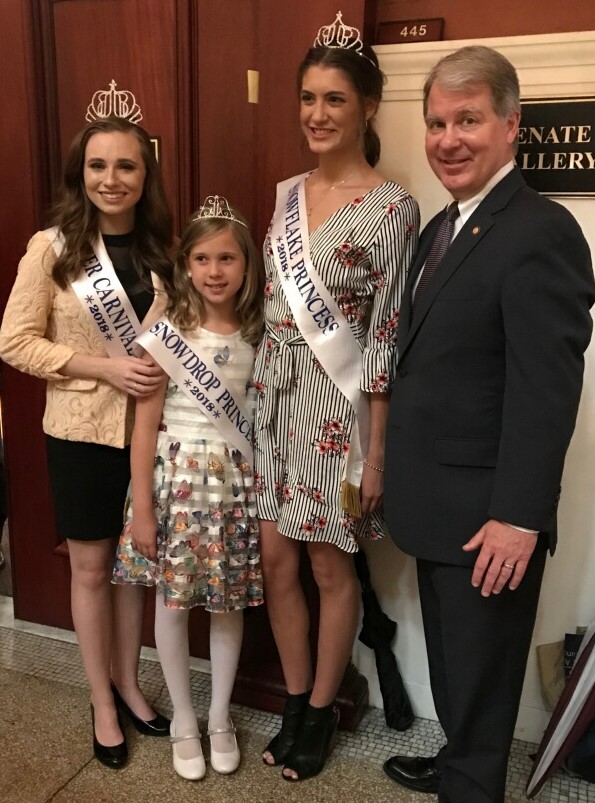 On Deck
For a recap of the bills passed by the Senate this week, click here.
The Senate is scheduled to convene on Monday, June 18 at 1 p.m. You can watch session live and view the voting calendar on my website.