Follow Sen. Argall on Twitter for Senate happenings – @SenatorArgall
For photos from Sen. Argall, follow him on Instagram

In this email update:
Honoring those who gave all
Property tax elimination has no political bias
Economic outlook of the 29th
Possible breakthrough on anti-gerrymandering effort
PA forward grant eligibility
US 209/West Broad Street in Tamaqua closing June 6
On deck
Honoring those who gave all
It was an honor to speak at the Henry P. Robeson Park in Robesonia. We are extremely fortunate to live in a county where we are free to peruse our dreams and become who we want to be. However, this freedom comes at a cost. This cost was paid in the lives of the brave men and women who laid down their lives so that we can live our lives in peace. Those brave men and women who died while serving our country are heroes without equal and we are all indebted to their service.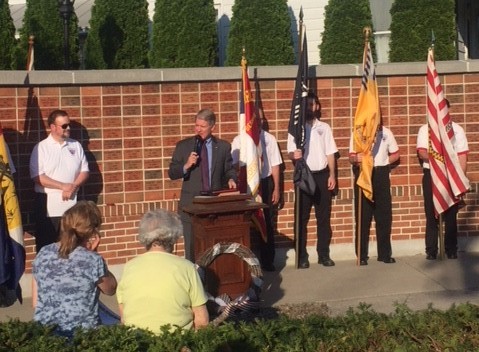 Property tax elimination has no political bias
Last November, the citizens of Pennsylvania voted in favor of a constitutional amendment to allow the General Assembly to enact legislation to expand the homestead exclusion. The legislature can now exempt up to 100 percent as opposed to the previous 50 percent. 56 of Pennsylvania's 67 counties voted in favor of the amendment including 77 percent of Berks County residents and 69 percent of Schuylkill County residents.
As you can see from this chart below, as provided to me by Robert Kistler of the Pennsylvania Taxpayers Cyber Coalition, property tax elimination has the thumbs up from both sides of the political spectrum. Property tax elimination is a bipartisan, grassroots effort organized not by powerful lobbying groups, but by ordinary folks with a vision for a better future.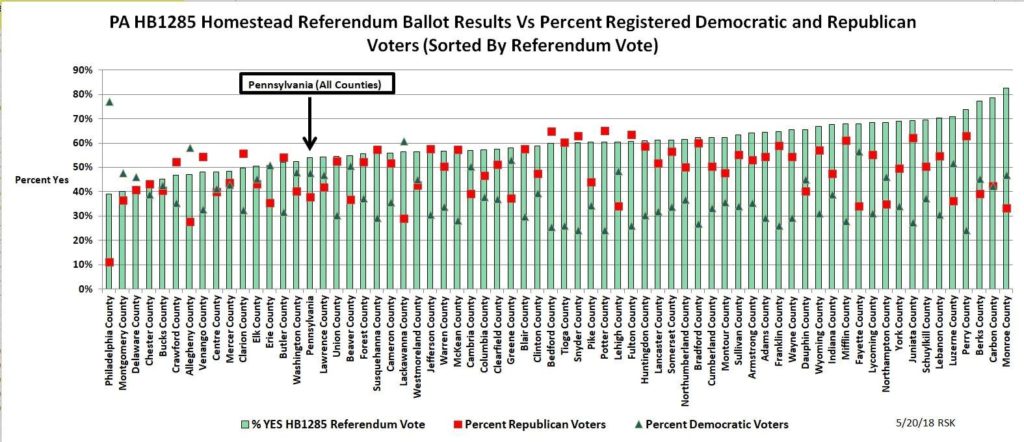 Economic outlook of the 29th
Berks County continues to grow and prosper. At the recent Berks County Economic Outlook Breakfast, Kutztown University economics professors M. Halim Dalgin and Abdulwahab Sraiheen stated that the county was in "good shape." America's economy has been expanding since 2009 and much of that success has spread into Berks County. Many economists expect that this growth period will end around June of 2020 which would make it the longest period of growth in U.S. history at 11 years.
The Reading Eagle has also reported that Berks County's unemployment number is lower now that it has been in the last 11 years. When compared to the state's other 67 counties, Berks was the 21st lowest (tied with Delaware and Juniata Counties.)
In Schuylkill County, PA Career Link Schuylkill County found that the county has been on an upswing with employers hiring more and more workers. According the Reading Eagle, Schuylkill County had an unemployment rate of 5.2 percent. There are currently more than 1,300 jobs available on the JobGateway website that have yet to be filled.
With the growth of our economy, I remember a previous meeting I held with employers from Berks County. This meeting took place in Shartlesville and touched on a variety of topics. However the key point of the discussion was: right now this region has too many people without jobs and too many open jobs without people. Through increased education and better welfare reform policies, we need to bridge that very real gap!
Possible breakthrough on anti-gerrymandering effort
Turn on any TV or open any newspaper and you'll see that redistricting reform has been a hot topic in the world of political news. For over a year, the Senate State Government Committee has been hearing from experts and advocacy groups about our current system while also reviewing proposals on how to change the drawing of election lines.
Under the current system, the four legislative leaders, plus a fifth member usually appointed by the Pennsylvania Supreme Court, become a commission to draw General Assembly election districts while Congressional districts are determined by passing a new law every ten years. Opponents of this system say that the system can become too political and result in gerrymandering.
Any change to this system would require a constitutional amendment and much of the conversation about replacement has revolved around a system with an independent citizens' commission. This kind of proposal was just released from the State Government Committee. Senate Bill 22 would establish an 11-member independent commission approved by two-thirds votes of the General Assembly: two Democrats and two Republicans approved by two-thirds vote of the Senate, two Democrats and two Republicans approved by two-thirds vote of the House, and three independents or other parties approved by two-thirds vote of both chambers. A two-thirds vote could ensure that everyone is both heard and has meaningful input.
While previous bills were bitterly opposed and only found support along party lines, this legislation was approved by the committee on a unanimous vote. I suspect you'll be reading much more about this issue in the near future.
Full comments from Chairman Mike Folmer can be found here.
PA forward grant eligibility
The Pennsylvania Department of Environmental Protection (DEP) is accepting grant applications to replace, repower or retrofit fleet diesel-powered trucks, buses and other vehicles and equipment under the Pennsylvania State Clean Diesel Grant program. Some of these grant funds will come from the recent $118 million settlement from Volkswagen.
By replacing older, polluting diesel engines with newer technologies, DEP estimates that nitrogen oxide emissions can be cut by 27,700 tons.
DEP will accept online applications until July 6. The application package can be found here.
US 209/West Broad Street in Tamaqua closing June 6
PennDOT has announced that US 209/West Broad Street in Tamaqua will close on Wednesday June 6 so workers can replace a structurally deficient bridge over Wabash Creek. Work is expected to last a month ending in August.
The road will be detoured between South Railroad and South Lehigh streets. Access will be maintained to all properties. The posted passenger vehicle detour will utilize South Railroad Street, West Spruce Street and South Lehigh Street. A separate posted truck detour will route truck traffic on PA 309, PA 54, Interstate 81, and PA 61.
For more information on PennDOT project, please visit their transportation projects page here.
On deck
The Senate is scheduled to convene on Monday, June 4 at 1 p.m. You can watch session live and view the voting calendar on my website.