Working Together for OUR Communities
Congressman Reschenthaler: PA Deserves Better
Wolf Vetoes 3 More Bills!
Governor Moves 12 More Counties to Yellow- NO Berks or Schuylkill
COVID-19 Cases Per Day- Berks and Schuylkill
Honoring America's Heroes on Memorial Day
Shutdown Day 65
Working Together for OUR Communities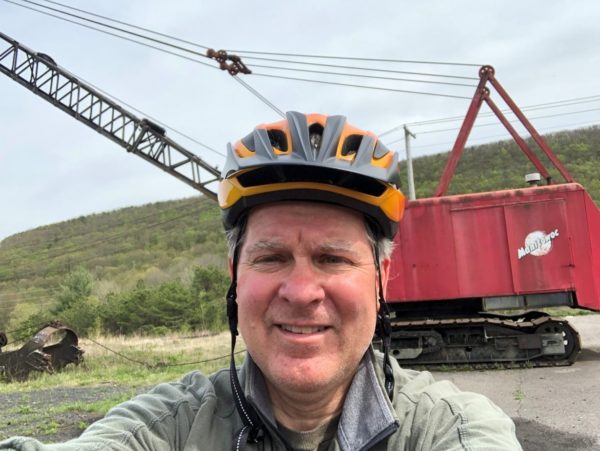 On my mountain bike rides I have a choice: I can pedal for miles through the forests and enjoy the trees and the streams, or I can travel for miles through abandoned coal mine lands and witness the environmental devastation due to the mistakes of the past. Can you guess, from the above photo, which choice I made in my latest ride?
As I've noted to you in my recent messages, I believe we don't have to choose, when fighting this terrible COVID19 pandemic, between health and safety and jobs and our economy. We should focus on both!
Many of the communities which I represent suffered terribly from the 1930s until the 1960s due to the loss of tens of thousands of railroad and coal mining jobs. When the mines closed, the problems remained behind: dangerous, abandoned open pits, orange streams, and high unemployment.
Since those terrible days, we've seen considerable progress: Some employers survived and grew while many new employers came to Berks and Schuylkill Counties to help people get back on their feet. With the help of partnerships between the public and the private sectors, we've also witnessed considerable environmental recovery. On my rides, I've seen mountains turn green again for the first time in my lifetime. All along the Schuylkill River, I've seen fish and wildlife—and people—return to places where my mother would not have allowed me to dip my toes as a boy.
As we return to the days of high unemployment due to this damn pandemic, let's work together, on a bipartisan basis, to help our communities recover quickly. The Great Depression in our region lasted for a generation. For the sake of our children (and my future grandchildren, I hope) let's do it right this time! And, as I've frequently have noted: The sooner, the better!
Congressman Reschenthaler: PA Deserves Better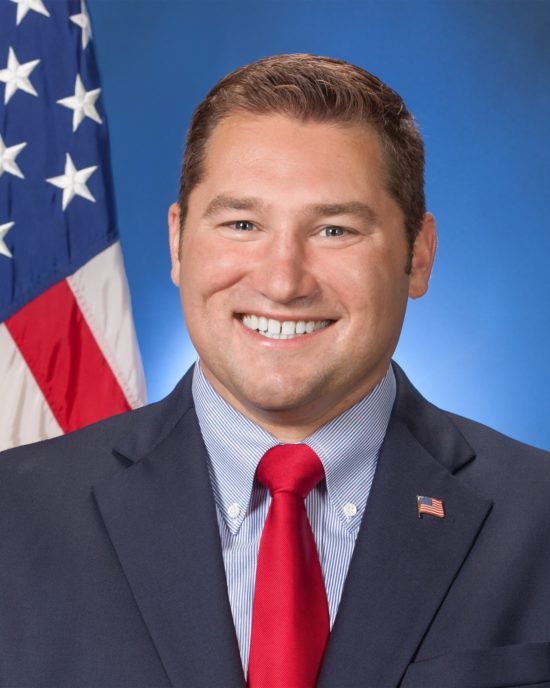 Here's an interesting opinion from a former State Senate colleague from western PA who now serves as a freshman member of the US Congress. Not all of you will agree with his opinions, but I hope that you all understand that he has earned the right to fight for his constituents. As a US Navy prosecutor who prosecuted terrorists in Iraq while he was still in his 20s, and later as a local district magistrate and a state senator, Guy Reschenthaler brings a very interesting perspective to his job.
You can read his comments here.
Gov. Wolf Vetoes 3 More Bills!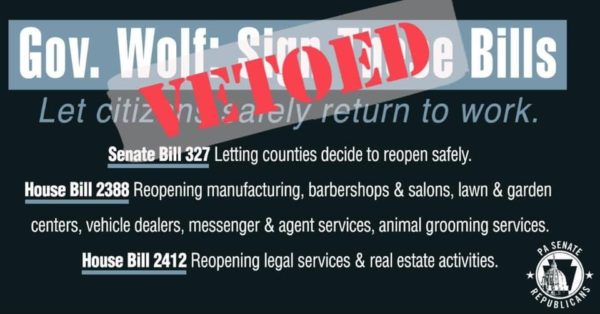 Governor Wolf has vetoed three additional bills:
My bill, Senate Bill 327, would have given county governments the option to develop and implement individual plans to mitigate the spread of COVID-19 and allow residents to safely return to work ONLY IF they comply with U.S. Centers for Disease Control and state Department of Health safety guidelines to protect workers and customers.
House Bill 2388 would have required the state to issue waivers to the governor's business closure order to vehicle dealers, lawn and garden centers, cosmetology salons, barber shops, messenger and agent services, animal grooming services and manufacturing operations.
House Bill 2412 would have required waivers be issued to legal services and real estate sales activities to resume.
In order to override any of the Governor's vetoes, we need a 2/3 vote in both the Senate and the House of Representatives.
As noted below, one such attempt failed this week:
---
From Capitolwire–
A long Wednesday session in the state House of Representatives was topped off with a failed attempt to override a recent Gov. Tom Wolf veto of a COVID-19 response bill that would have allowed several different types of businesses the ability to resume operations under Wolf's "non-essential" business closure order.
The legislation, vetoed by Wolf on Tuesday, would have allowed vehicle dealers, lawn and garden centers, cosmetology salons and barber shops, messenger service and agent service activities, animal grooming services and manufacturing operations to reopen in Pennsylvania, regardless of what phase of the Governor's reopening process their home county might be in, as long as the businesses adhere to the social distancing practices and other mitigation measures defined by the federal Centers for Disease Control (CDC) and the order issued by the Secretary of Health directing public health safety measures for businesses permitted to maintain in-person operations.
The bill, in its current form, had last won House approval on May 14 by way of a bipartisan 123-79 vote, with 14 Democrats joining all of the House's Republican members in supporting the measure. On Wednesday, the override vote garnered only 115 votes – all Republicans and 6 Democrats – which was well short of the 136 votes needed to reverse Wolf's veto.
---
Governor Moves 12 More Counties to Yellow- NO Berks or Schuylkill
Governor Wolf announced 12 more PA counties will move to the COVID-19 yellow phase (medium restrictions) of reopening May 22: Adams, Beaver, Carbon, Columbia, Cumberland, Juniata, Mifflin, Perry, Susquehanna, Wyoming, Wayne and York. Schuylkill and Berks will remain in the red phase.
COVID-19 Cases Per Day- Berks and Schuylkill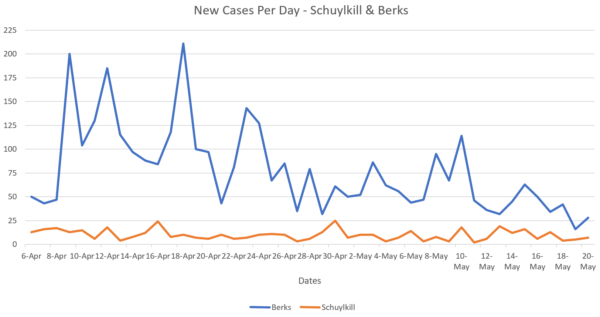 A target goal for reopening has been set by the Governor at having fewer than 50 new confirmed cases per 100,000 population reported in the previous 14 days.
Using the goals set by the Governor, Schuylkill County would need under 70 cases in 14 days while Berks would need less than 210 cases per day. This means Schuylkill County would have to average less than 5 cases per day and Berks would need to average less than 15 cases per day.
These charts compare the number of new confirmed cases of COVID-19 per day in Schuylkill and Berks, according to the PA Department of Health: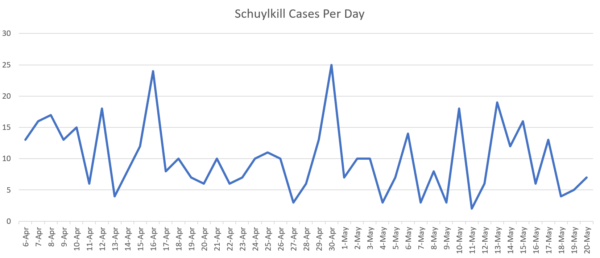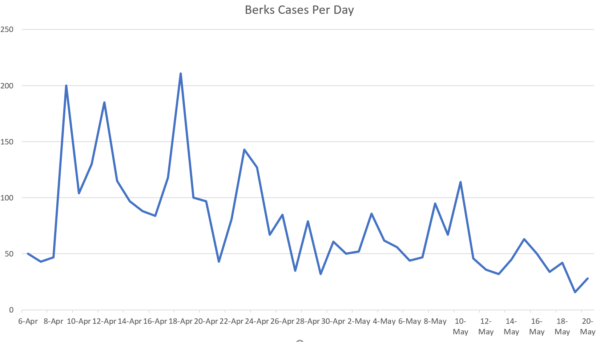 Honoring America's Heroes on Memorial Day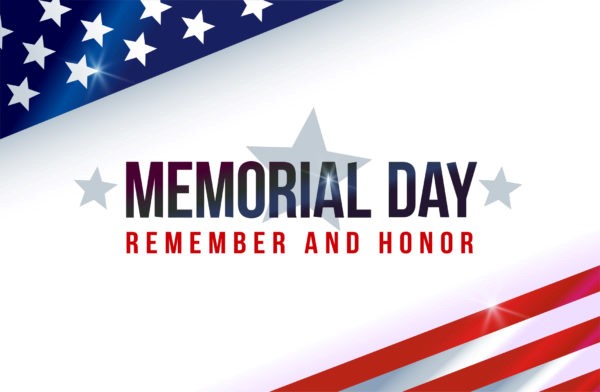 This Memorial Day, we should all pause and reflect on the service and sacrifice of the heroes who answered freedom's call and paid the ultimate price so others could live under better conditions. We are forever in their debt.