Follow Sen. Argall on Twitter for Senate happenings – @SenatorArgall
For photos from Sen. Argall, follow him on Instagram

In this email update:
On Property tax elimination: "I don't think the governor has provided us with a single vote"
Cutting excessive regulations
Welfare Reform: Ending the cycle of poverty
Recognizing Schlouch Incorporated
CDL Scholarships available for Schuylkill County residents
On property tax elimination: "I don't think the governor has provided us with a single vote"
In our continuing efforts to move the property tax elimination issue, Representative Jim Cox (R-Berks) has proposed a new bill, similar to HB/SB 76, that would eliminate school property taxes on owner-occupied homes and farms. This proposal would not expand the state sales tax to items which are currently tax-free but would increase the sales tax from the current six percent to seven percent. The state's personal income tax would be raised from the current 3.07 percent to 4.76 percent in order to eliminate your school property taxes.
The Reading Eagle this week quoted my position regarding this critical issue:
"There are 203 members in the House and 50 members in the Senate…I don't think the governor has provided us with a single vote. I need 102 votes (in the House) and 26 votes (in the Senate). He (Wolf) hasn't been of assistance."
There are many different avenues to take on the road to property tax elimination. The Governor, who had agreed to assist us on a bipartisan basis, has not provided us with any real support to accomplish this goal.
Pennsylvanians have long been upset with this 19th century tax which is neither efficient for school districts nor fair to property owners. When the Lt. Governor defeated us on a 24-24 Senate vote last session, there were howls of outrage, and that vote certainly contributed to his loss at the polls this week, when he became the first Pennsylvania Lt. Governor in history to lose a primary election.
School property tax elimination continues to be my number one goal in Harrisburg and I am willing to work with anyone, Democrat, Republican, or Independent, who will help accomplish this difficult, long-sought, goal.
Cutting excessive regulations
In order to grow Pennsylvania's economy, bureaucratic and excessive regulations need to be cut. Recently, Senators Scott Wagner (R-York), John DiSanto (R-Dauphin/Perry) and Michele Brooks (R-Crawford/Erie/Mercer/Warren) introduced SB 1102.
According to a recent study by the Mercatus Center of George Mason University, the Pennsylvania Code likely contains around 153,000 regulations and it would take one person 18 weeks to read the entire Code!
Nicknamed the "Red Tape Reduction Act," the bill would do three main things: count the number of state regulations in the Pennsylvania code, cap the number of state regulations at the current number and cut the number of state regulations by instituting a one-in, two-out regulatory model.
Welfare Reform: Ending the cycle of poverty
The welfare system in Pennsylvania needs to be redesigned from the top to the bottom. Approximately 486,000 non-disabled, non-elderly Medicaid recipients aren't working and every week, people in this district complain to me about welfare fraud and abuse. We need to find real solutions to tackle this problem!
Recently, the House of Representatives passed HB 1659 sponsored by Representative Mike Tobash (R-Schuylkill/Dauphin). With a vote of 108-79, this bill would end state waivers in Pennsylvania. Currently, an unemployed person can only collect food stamps for three months in a three year period. However, if a county files for a state waiver, those unemployed residents of the county can receive food stamps for longer than the time already allotted.
Under Representative Tobash's legislation, able-bodied individuals aged 18-49 who are receiving food stamps must work in some capacity in order to keep receiving benefits.
A summary of Representative's Tobash's comments can be found here.
We continue to hear that our region has "jobs without people" (empty positions that employers cannot fill) and "people without jobs." Real welfare reform is much needed to bridge this gap.
Recognizing Schlouch Incorporated
This week, I presented a Senate citation to Schlouch Incorporated for their 35 years in business. The company, which is located in Blandon in Berks County, employs 250 people and enjoys repeat business from regional owners, developers and contractors.
After receiving a facility tour, I addressed questions regarding the Senate's role in workforce development, property tax reform, and how I can help expedite the permit process.
Congratulations to Schlouch. Here's to many more years of success!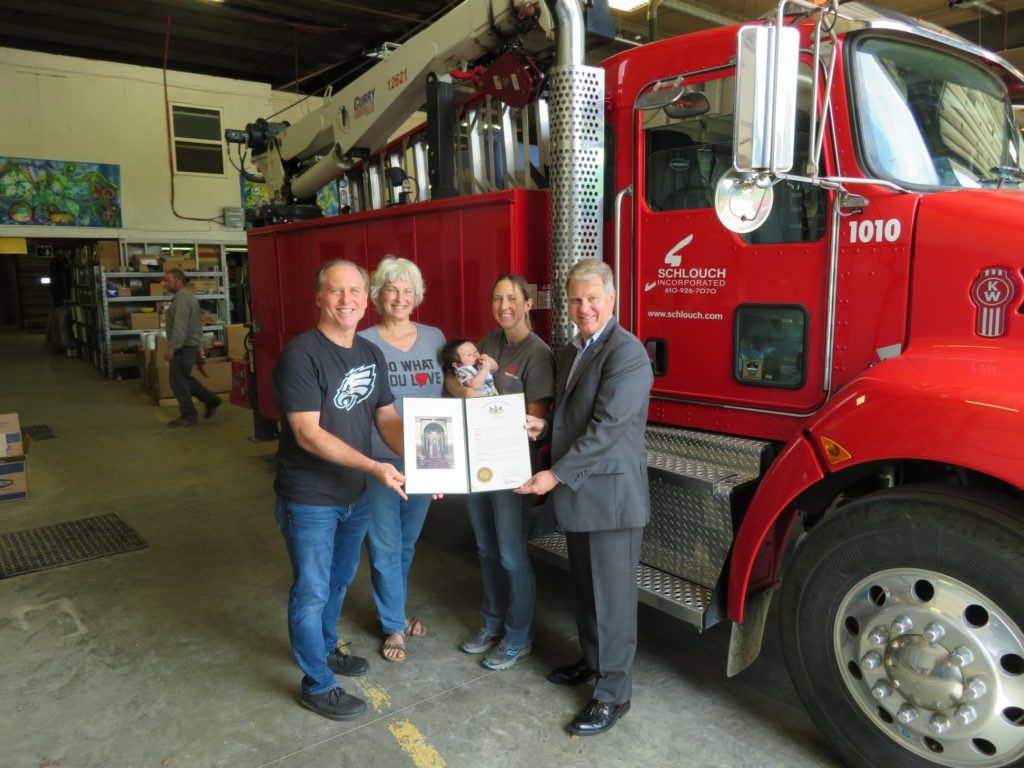 CDL Scholarships available for Schuylkill County residents
Lehigh Carbon Community College is offering a limited number of scholarships in May and June for its award winning Commercial Driver's License (CDL) Training Program. Scholarships are available for Schuylkill County residents who are 18 and older and are either employed or would benefit economically from the training.
This four week training program allows students to gain the skills needed to take and pass the state's Commercial Driver's License test. The program is a combination of classroom, driving range and on-the-road training. Training is provided by the program's partner CC Training LLC.
Pennsylvania has one of the highest employment levels for Class A drivers with an annual average wage of $45,270.
Information on programs can be found here.