A Prayer for Our Uncertain Times
My Offices in Mahanoy City and Pottsville to begin Restaffing
Senate Votes to give Local Communities the Power to Reopen
PA's new COVID-19 cases, over time, continue to decline
Funding for Nursing Homes, Fire & EMS
After Senate Hearing, Department of Health Reverses Course on Nursing Home Testing
PennDOT Driver Licenses and Photo IDs Can Use Existing Photos
Helpful Links
---
A Prayer for Our Uncertain Times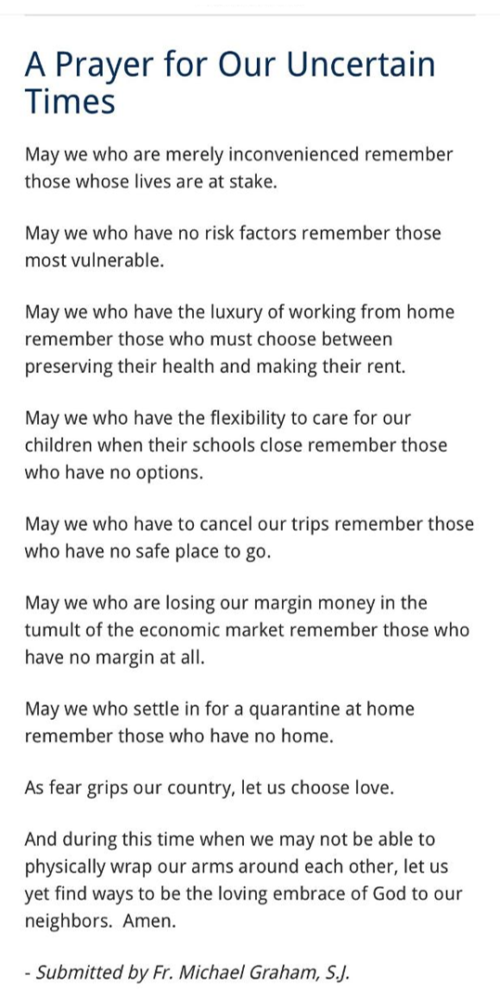 It is tradition for a prayer to be read before every Senate session. This prayer was given on Wednesday by the Senator for one of our neighboring districts, Senator John DiSanto (R-Dauphin/Perry).
Senator DiSanto read a prayer from Reverend Father Michael J. Graham, S.J., the president of Xavier University.
I wanted to share this prayer with you. We all have faced hardships in this unprecedented time. The pandemic threatens both the health and the economic future of all Pennsylvanians. Many people have gone months without a paycheck and question how they will provide for themselves and their families.
We may disagree on the proper path forward but we cannot let hate be an additional symptom of this virus.
My Offices in Mahanoy City and Pottsville to begin Restaffing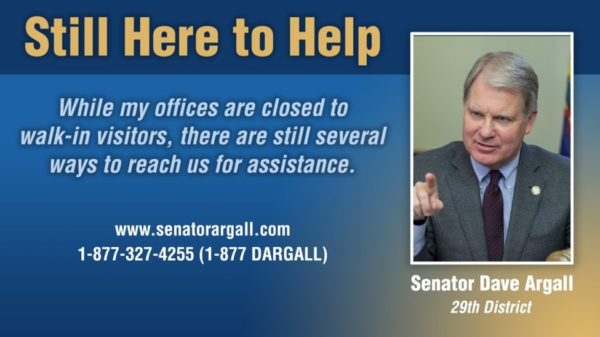 My offices in Pottsville and Mahanoy City will have staff on the premises again starting Monday, May 18 due to the falling rates of infection of COVID-19 across Pennsylvania. My Berks County offices in Hamburg and Spring Township will remain closed for the time being due to being located inside municipal buildings which are closed until further notice. While the offices will NOT be open to the public for walk-ins or meetings, staff will be on hand to answer any phone calls and emails regarding state government related questions. This move is in accordance with the Pennsylvania Senate's policy relating to reopening district offices during the red and yellow phases of the Governor's Plan to Reopen PA.
Senate Votes to give Local Communities the Power to Reopen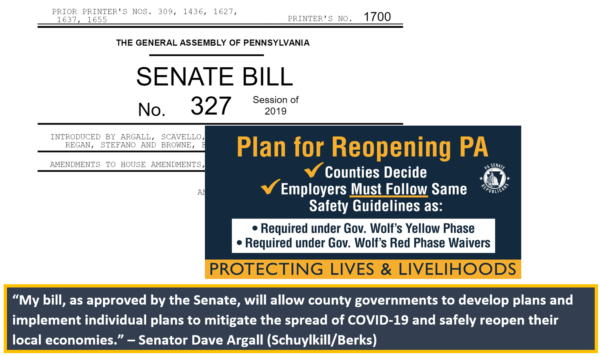 The Senate voted to pass my bill, Senate Bill 327, which would give local communities more discretion over allowing employees to return to their livelihoods.
My Senate Bill 327 gives counties the authority to develop plans to reopen small businesses shuttered by the Governor's statewide closure order, if they comply with CDC and State Department of Health employee safety guidelines.
Local people should have a say in the mitigation measures implemented in their communities. Applying the same strict measures to rural towns and densely populated cities places an undue burden on people in our small towns who just want to make an honest living and safely put food on the table for their families.
The bill was approved by the House and now heads to the Governor's desk.
PA's new COVID-19 cases continue to decline
Both the 7-day and 14-day rolling totals of new cases statewide, as calculated by Capitolwire, continue to illustrate a gradual decline in new cases, following peaks on April 11 (at 11,638 new cases during the prior 7-day period) and April 18 (at 21,052 new cases during the prior 14-day period), respectively; the current 7-day total is 6,700 new cases, down from Monday's 6,751 new cases, while the current 14-day total is 14,137 new cases, down from Monday's 14,542 new cases. You can read more here.
Funding for Nursing Homes, Fire & EMS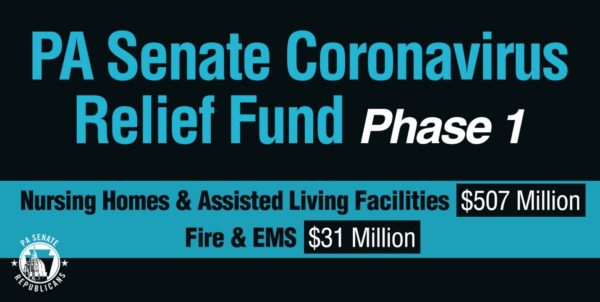 In a victory for bipartisanship and good government, the Senate approved new funding this week to provide a critical layer of support for nursing homes and other organizations supporting long-term living programs, including programs for seniors to continue to live in the community, and volunteer fire and EMS companies that are struggling due to COVID-19.
Senate Bill 1122 would distribute $507 million in federal money to nursing homes and other organizations supporting long-term living programs to ease the considerable strain placed on these organizations by COVID-19.
The bill would also establish a special one-time grant program for Pennsylvania's volunteer fire companies and EMS squads as they address the ongoing COVID-19 outbreak. The COVID-19 Crisis Fire Company and Emergency Medical Services Grant Program would provide a total of $31 million in grants to organizations that were approved for annual funding by the Pennsylvania Emergency Management Agency (PEMA) and the office of the State Fire Commissioner (OSFC).
PA State Rep. Jerry Knowles (R-Schuylkill/Berks/Carbon) has also been supportive in getting our EMS workers the funding that they need:
"The coronavirus pandemic is impacting nearly every element of public life, and first responders are increasingly on the frontlines of the crisis," said Rep. Knowles. "EMS workers are struggling to keep up with the influx of 9-1-1 calls, police departments are facing a worst-case scenario with large numbers of the workforce out sick or in quarantine, and already-shorthanded fire departments are keeping communities safe amid volunteer shortages. Senate Bill 1122 will help these organizations with funding that will help them function and in turn help us in times of need." These organizations deserve our respect and support."
After Senate Hearing, Department of Health Reverses Course on Nursing Home Testing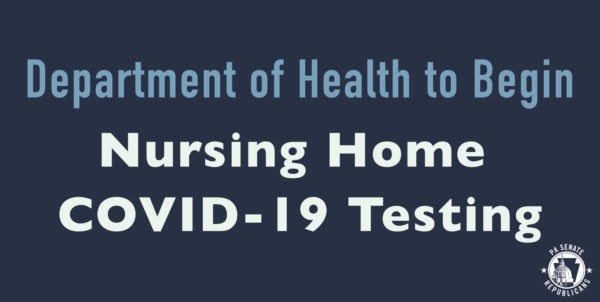 In response to a Senate hearing last week that uncovered gross inadequacies in the Wolf Administration's response to the COVID-19 pandemic, the Department of Health announced this week that it would ramp up testing of staff and residents of long-term care facilities. To date, more than two-thirds of all COVID-19 deaths in the state have been residents of nursing homes and other long-term care facilities.
While the Department of Health's new emphasis on protecting residents and staff of these facilities is a step in the right direction, more work remains to be done to ensure they get the resources and supplies they need.
PennDOT Driver Licenses and Photo IDs Can Use Existing Photos
In order to limit the number of people who must visit PennDOT Photo License Centers, the department recently announced that they will use existing photos on file for customers who renew driver licenses and photo ID cards. All customers who renew their driver's license or photo ID card online or through the mail will receive a new product using the most recent photo of that individual that exists in PennDOT's system.
Individuals who completed a renewal form prior to May 10 will still receive a camera card in the mail and will need to have an updated photo taken. A list of PennDOT office locations that have been reopened is available at www.dmv.pa.gov.
Helpful Links
Here are services and information that you may need:
Governor Wolf
COVID-19 Guides
Food Assistance
Financial Guides
PennDOT COVID-19 Changes