Follow Sen. Argall on Twitter for Senate happenings – @SenatorArgall
For photos from Sen. Argall, follow him on Instagram

In this email update:
Creating more jobs in our communities
Looking at the future of the Pennsylvania State System of Higher Education (PASSHE)
Senate Committee unanimously approves bill to strengthen fraud detection
Saluting our veterans
Addressing Pennsylvania's dairy problem
Route 222 redesign underway in northern and eastern Berks County
Policy Committee holds discussion on Medicaid program and opioid crisis
Recap of events and meetings
Bills passed by the Senate
---
Creating more jobs in our communities
Earlier this week, Representative Goodman and I announced that Tamaqua Borough, Tremont Borough and Foster, Reilly, and Frailey Townships in Schuylkill County are nominees for the federal Opportunity Zones program.
Enacted by Congress in December 2017 as part of The Tax Cuts and Jobs Act of 2017, the Opportunity Zones program aims to generate long-term revenue for rural and urban low-income communities across the country by utilizing tax incentives to foster private investment.
Since the 1950s, many of our local communities have struggled, and this new bipartisan initiative is designed to help employers create more local jobs – which was a key topic for me during last month's Senate Appropriations Committee state budget hearings.
Locally, we have seen the ongoing revitalization of communities such as Tamaqua and Jim Thorpe, and I believe that the Opportunity Zones program can help us in the future.
Looking at the future of the Pennsylvania State System of Higher Education (PASSHE)
On Wednesday, the Joint Legislative Budget & Finance Committee released a comprehensive report by the RAND Corporation on the long-term viability and sustainability of the Pennsylvania State System of Higher Education.
This report is a result of Senate Resolution 34 which I introduced and was adopted by the Senate unanimously on April 18, 2017.
The goal of this study is to help us understand, from an unbiased perspective, factors which are causing a decline in enrollment at some of our universities, what the urgent needs are at these universities, and how we can move forward to ensure more Pennsylvania students can receive an affordable, quality education.
The PASSHE universities include: Bloomsburg University, California University of Pennsylvania, Cheyney University, Clarion University, East Stroudsburg University, Edinboro University, Indiana University of Pennsylvania, Kutztown University, Lock Haven University, Mansfield University, Millersville University, Shippensburg University, Slippery Rock University and West Chester University.
Senate committee unanimously approves bill to strengthen fraud detection
On Tuesday, the Senate Aging & Youth Committee unanimously approved a bill I introduced to strengthen fraud detection among state agencies.
Senate Bill 891 requires the Pennsylvania Department of Aging to cross-check its list of PACE and PACENET beneficiaries with death records maintained by the Pennsylvania Department of Health.
By requiring the Department of Aging and the Department of Health to collaboratively maintain current records of individuals enrolled in the PACE program, we can combat fraud, and most importantly, save taxpayers money.
The bill will now move to the full Senate for consideration.
Saluting our veterans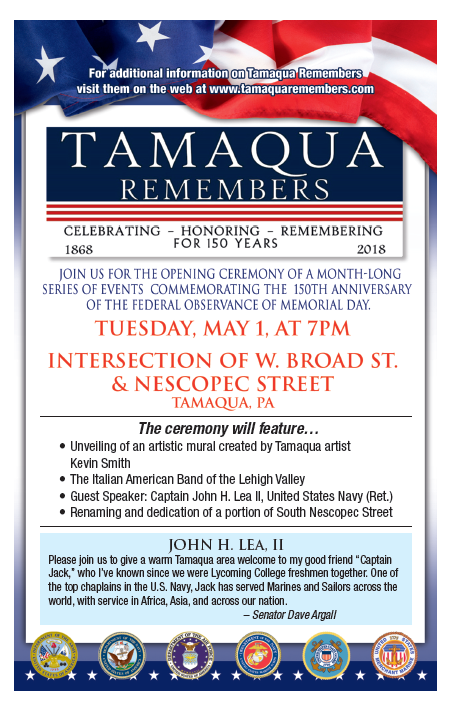 On Tuesday, May 1, a Tamaqua Remembers ceremony will be held to honor and remember our nation's veterans and their selfless service and sacrifice as we commemorate the 15oth anniversary of Memorial Day.
The guest speaker will be Captain John H. Lea, II, one of the top chaplains in the U.S. Navy and a gentleman I've known since we were freshmen together at Lycoming College.
Please join us to welcome my good friend, "Captain Jack!"
Addressing Pennsylvania's dairy problem
The decline in milk prices has negatively affected many local dairy farmers in Berks and Schuylkill Counties.
Senator Jake Corman (R-Centre/Huntingdon/Juniata/Mifflin) recently urged the governor's administration to develop a plan that will encourage companies to create a dairy processing plant in Pennsylvania in order to help our struggling farmers, create more jobs and boost economic growth.
Watch my state budget comments with the Secretary of Agriculture on these issues here.
Route 222 redesign underway in northern and eastern Berks County
The long-awaited project to improve the traffic flow and intersection of US 222/Kutztown Road and US 662/Moselem Springs Road in Richmond Township, Berks County is well underway.
The completion of the first roundabout is slated for August 7, 2018. This project consists of widening US 222 into four lanes along the roundabout, as well as the creation of sidewalks. Milling, paving, drainage improvements and new signs and paint lines will also be part of the roundabout project.
In future weeks, we will examine other portions of the Route 222 rebuilding project.
This project was also a key topic during last month's state budget hearing with PennDOT.
Policy Committee holds discussion on Medicaid program and opioid crisis
The Senate Majority Policy Committee, which I chair, held a meeting with the Pennsylvania Coalition of Medical Assistance Managed Care Organizations (PAMCO) this past Monday to discuss measures to control Medicaid costs, waste, fraud and abuse, as well as their efforts to combat the opioid crisis, providing quality improvements and accountability of tax dollars.
PAMCO is comprised of the following members: Aetna Better Health, AmeriHealth Caritas, Gateways Health Plan, Geisinger Health Plan, Keystone First Health Plan, PA Health & Wellness, UnitedHealthcare Community Plan and UPMC for You.
Recap of meetings and events
During session this past week, I met with many different constituents on a variety of issues. A recap is below:
Dedication ceremony of a new burn building in Frackville for the Schuylkill County Volunteer Firefighters Association. This new facility will allow our local firefighters to hone their safety skills and train others in protecting our communities during fires and other disasters. Read more about the facility from the Republican Herald here.
Meeting with the DCNR secretary to discuss Phase II of Kaier's playground development in Mahanoy City Borough.
Blight Task Force meeting to discuss redevelopment and rehabilitation efforts.
Discussing technology modernization efforts with the Department of Revenue in order to combat welfare fraud.
Meeting with local Social Workers to discuss legislation affecting their work.
Meeting with PennFuture to discuss conservation issues in Berks and Schuylkill Counties.
Meeting with the Hospital & Healthsystem Association of Pennsylvania to discuss issues concerning the healthcare industry.
Bills passed by the Senate
For a recap of bills passed by the Senate this week, click here.