Follow Sen. Argall on Twitter for Senate happenings – @SenatorArgall
For photos from Sen. Argall, follow him on Instagram

In this email update:
Latest Argall Report highlights differences with Governor regarding welfare spending and property taxes
Work Zone Awareness Week in Pennsylvania
Two Tri-Valley students recognized for their accomplishments
PLCB alcohol awareness poster contest winners
---
Latest Argall Report highlights differences with Governor regarding welfare spending and property taxes
My latest monthly television report, The Argall Report, recaps the recent Senate Appropriations Committee state budget hearings.
As a senior member of the committee, I asked the Governor's cabinet members a series of questions including the future of state prison closings, combatting welfare fraud, breathing new life into older towns through revitalization efforts, and my top priority – finding a more equitable way to fund our public school system rather than through our current property tax system.
When discussing school property tax elimination with Education Secretary Pedro Rivera, I was extremely disappointed with the department's attitude that this issue was not a priority for them. While this may not be a priority for the state bureaucracy, it is for thousands of homeowners across the state who are struggling to keep their homes.
Unfortunately, my disappointment with the governor's representatives didn't stop there.
The Labor & Industry Secretary was not familiar with the components of the comprehensive welfare reform measure that the governor vetoed this past October. The Revenue Secretary didn't know if his department had yet completed their years of computer modernization efforts to cross-check their data systems for welfare fraud detection. The Human Services Secretary refused to provide suggestions on getting able-bodied Medicaid recipients into the workforce. The Acting Secretary of the Commonwealth refused to comment on his predecessor's resignation.
Head to my website to watch the full report or see when the program will air on your local station here.
Work Zone Awareness Week in Pennsylvania
I co-sponsored a resolution introduced by Senator Rafferty (R-Berks/Chester/Montgomery) designating the week of April 9-13, 2018 as Work Zone Awareness Week in Pennsylvania.
The purpose of Work Zone Awareness Week is to educate drivers about the importance of highway worker safety in work zones.
Senator Judy Schwank (D-Berks) and I introduced a bipartisan proposal which seeks to protect construction workers and improve driver safety in active work zones.
The main goal of our initiative is to reduce the number of accidents and fatalities that have occurred on our highways due to careless driving and speeding. With the increased investments we have made in our roads and bridges, it is imperative that we ensure the safety of workers and drivers alike.
Two Tri-Valley students recognized for their accomplishments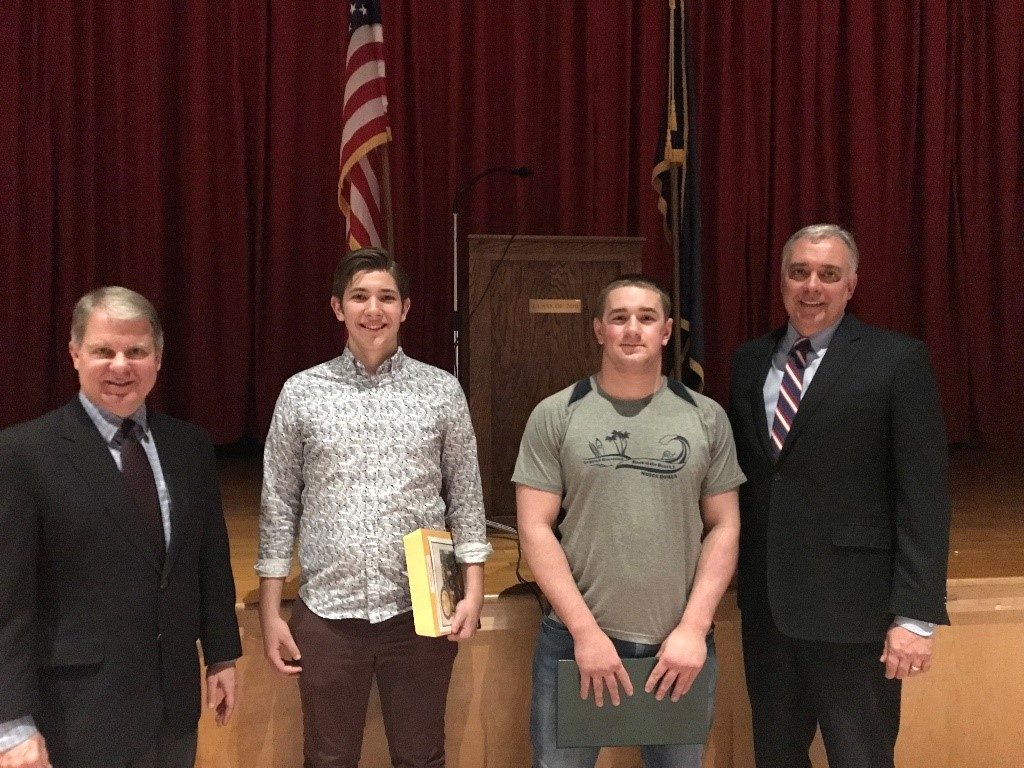 This past Thursday, Representative Mike Tobash and I recognized two students at Tri-Valley High School for their recent accomplishments in wrestling and music.
Danny Scheib, a senior at Tri-Valley, recently became the PIAA Class AA State Wrestling Champion in the 285-pound finals which were held at the Giant Center in Hershey. Scheib defeated his opponent, Bishop McCoy of South Side Beaver, by 3-2. Forty-one years ago, Scheib's uncle, Steve Scheib, brought home the first state wrestling title for Tri-Valley.
Keiffer Quandel, a senior at Tri-Valley, placed first at the Region-State Band and will be competing in the upcoming Pennsylvania Music Educators Association All-State Band. Quandel acquired a passion for music and the arts at a young age and is very active in Tri-Valley's drama club and musical productions.
Seeing students like Danny and Keiffer continue to improve their already-impressive skills really helps to motivate their peers. I wish Danny and Keiffer the best of luck, and I am certain they will continue to pursue these interests with fervor in the future.
PLCB alcohol awareness poster contest winners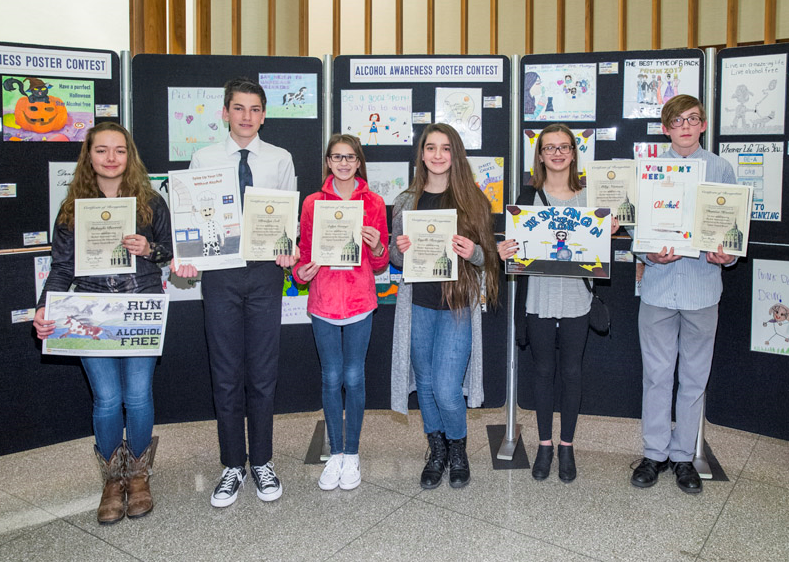 Several students from Berks County were selected as winners of the Pennsylvania Liquor Control Board's annual Alcohol Awareness Poster Contest.
These students were recognized during an awards ceremony on Wednesday at the State Museum of Pennsylvania for their work in highlighting the dangers of underage drinking and alcohol abuse and the importance of saying no to alcohol.
Congratulations to these students on their artistic work and a job well done: Edyn George, Abby Norman, Angelle Rescigno, Damien Hoover, Lauren Bryant, Bradyn Erb, and Makayla Barrett.