Follow Sen. Argall on Twitter for Senate happenings – @SenatorArgall
For photos from Sen. Argall, follow him on Instagram

Berks County Town Hall Meetings
Coronavirus Facts and Fiction
Workzone Speed Enforcement Cameras Now in Effect
Ashland Pioneer Coal Tunnel Lokie Building Updates
Internship Opportunities for Students and Young Adults
Mahanoy City Elks Award Ceremony
Real ID Reminder
Senate Legislative Accomplishments
---
Berks County Town Hall Meetings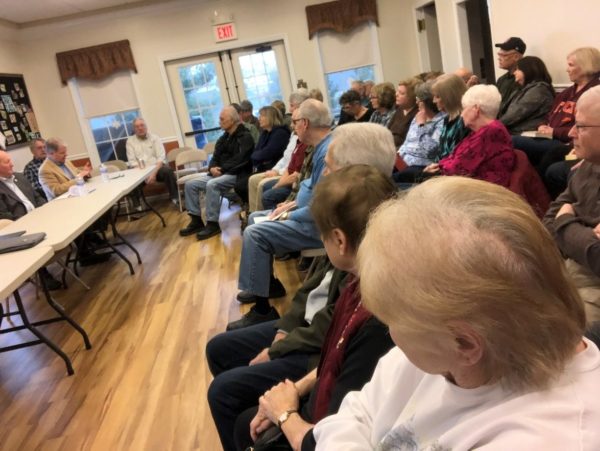 Full House at Stonecroft Village Home Owners Association Meeting
Last Friday, Representative Barry Jozwiak (R-Berks) and I were invited to two town hall events in Berks County—the first with the Strausstown School Alumni Association and the second with the Stonecroft Home Owners Association near Womelsdorf. Many of the attendees were looking for updates on Senate Bill 76-property tax elimination legislation. Representative Jozwiak and I are committed to continuing this difficult battle, despite the powerful groups opposed to us who prefer the status quo.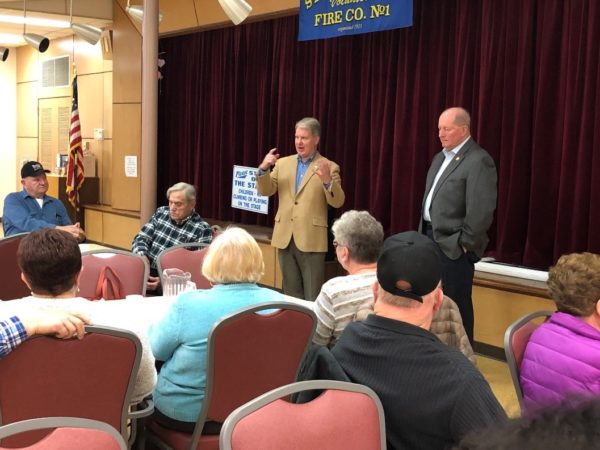 Representative Jozwiak and I speaking to the Strausstown School Alumni Association
Coronavirus Facts and Fiction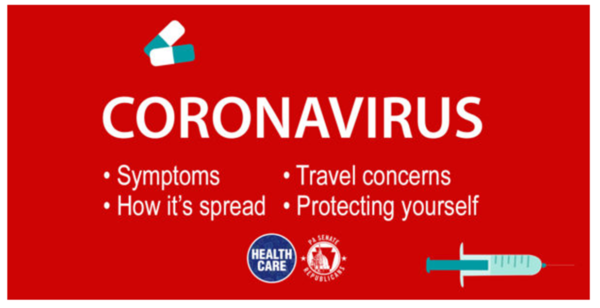 I know many of you are concerned about coronavirus and how it could affect our communities. Due to concerns about misinformation being spread through social media, the Pennsylvania Department of Health has unveiled a new web-page to keep residents updated on coronavirus and combat the fake news surrounding it. This page is updated daily and has factual and reliable information about the virus.
Work Zone Speed Enforcement Cameras Now in Effect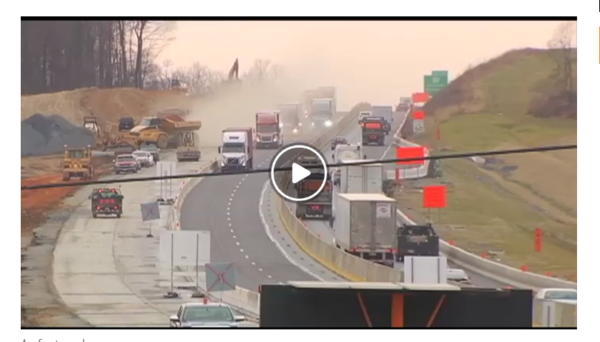 PennDOT and the Pennsylvania Turnpike Commission (PTC) announced that enforcement of the statewide Automated Work Zone Speed Enforcement (AWZSE) program is now underway.
Pennsylvania's AWZSE program uses vehicle-mounted systems to detect and record motorists exceeding posted active work zone speed limits by 11 miles per hour or more using electronic speed timing devices. AWZSE systems are only operational in active work zones where workers are present. Registered owners will receive a warning letter for a first offense, a violation notice and $75 fine for a second offense, and a violation notice and $150 fine for third and subsequent offenses. These violations are civil penalties only; no points will be assessed to driver's licenses. The goal: fewer work zone tragedies for highway workers and motorists!
You can learn more about it here.
Ashland Pioneer Coal Tunnel Lokie Building Updates

On Monday, I had the chance to visit one of the top tourist attractions in Schuylkill County–the Pioneer Coal Tunnel–to witness the progress of their newest building! Represenative Neal Goodman (D-123) and I helped Pioneer Coal Tunnel obtain a $400,000 state grant for a new building to house their steam lokies. The steam lokies, one of the defining features of the tunnel, are small trains which take visitors into the underground mine. These new buildings will allow visitors to learn more about the mining process. The construction should be completed in time for the spring visitors. You can read more about it here.
If you have never seen the Pioneer Coal Tunnel or have not had a chance to visit recently, put it on your 2020 to-do list!
Mahanoy City Elks Award Ceremony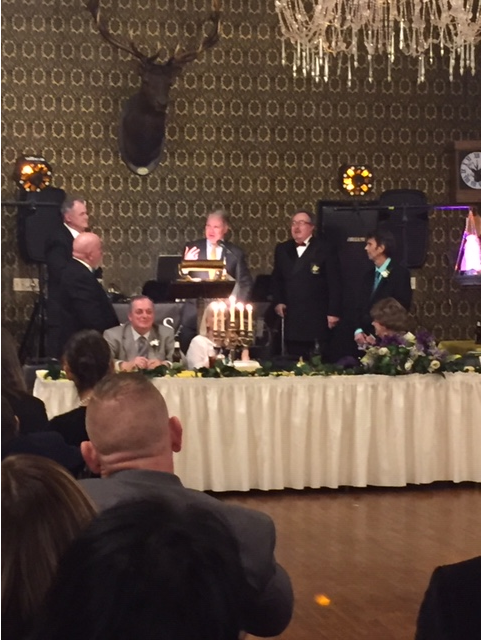 Last Saturday night, Representative Neal Goodman (D-123) and I participated in the Mahanoy City Elk of the Year Award program. We presented State Senate and House awards to William Rowe (Elk of Year) and Bobby Moucheron (Citizen of Year). Congratulations to them on this achievement and all their hard work.
Real ID Reminder

Between now and October 1, 2020, over 2 million Pennsylvanians will need a Real ID. If you use your driver's license at the airport for your identification, please be sure it is upgraded to a Real ID license with a star in the upper right-hand corner, as seen below.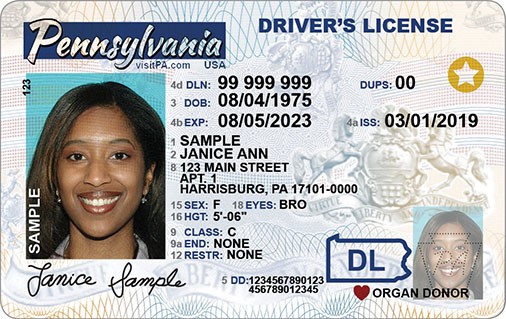 New State Laws in 2020
Over the last year, the Senate and House have passed several new laws on a variety of issues that affect you. This work has included pension and justice reforms, ensuring public safety through crime victims' rights, fighting sex trafficking, aiding our first responders, combating the opioid crisis, making healthcare more accessible and affordable, and protecting our farmers. You can read about these new laws here.