In this email edition:
Governor's Budget Cuts School Safety Funding by 75%
School Property Tax Elimination Rally
Will Governor Wolf Veto Bipartisan Bill that Creates Jobs in Eastern PA?
Interview on Lt. Governor Legislation
New Grant Available
New York City Forcing Homeless to Move to Other States
---
Governor's Budget Cuts School Safety Funding by 75%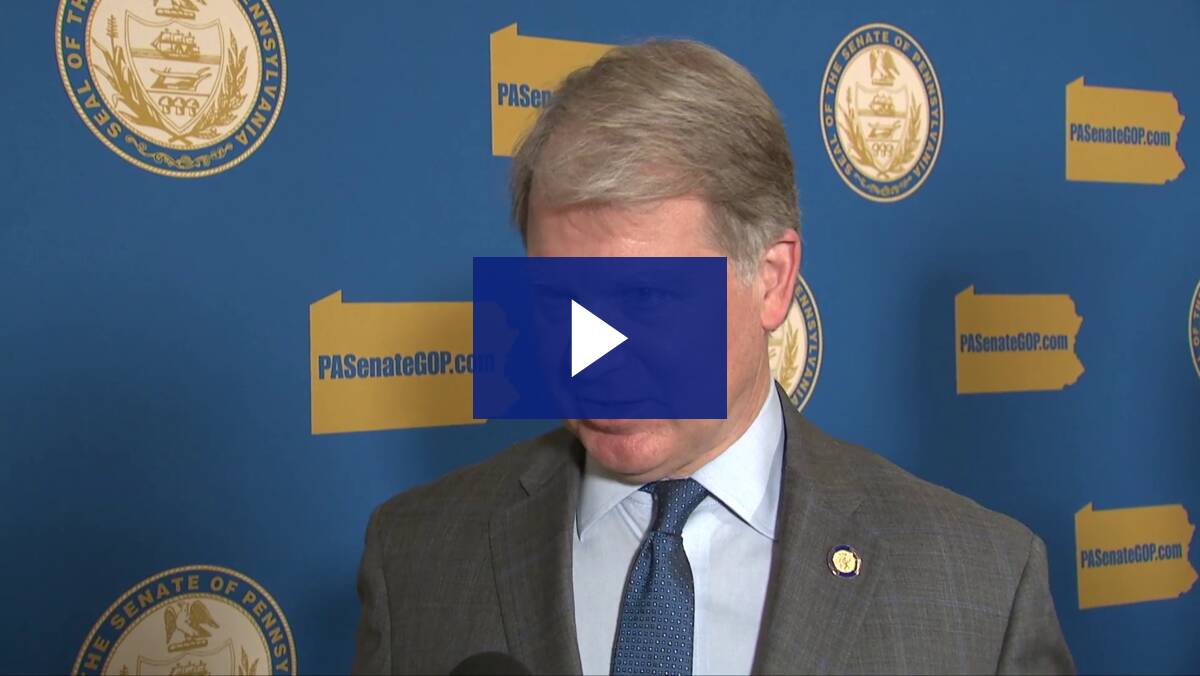 The new state budget proposal unveiled by Governor Tom Wolf on Tuesday contains a major flaw. The Governor's proposal asks the House and the Senate to cut $45 million from school safety programs.
I chaired 10 roundtable discussions across the state on this issue which proved the importance of investments in more secure buildings and mental health and school resource officers. It's hard to believe that after we fought to include this money last year, the Governor is proposing cuts instead of working to ensure that our children have a safe and secure learning environment.
I sponsored legislation to provide non-public schools and faith based institutions with school security funding. This measure aimed to provide all students, regardless of their zip code or where they choose to receive their education, with a safe and secure environment to learn and grow in. The bill was ultimately included in the budget for both public and private schools in 2019.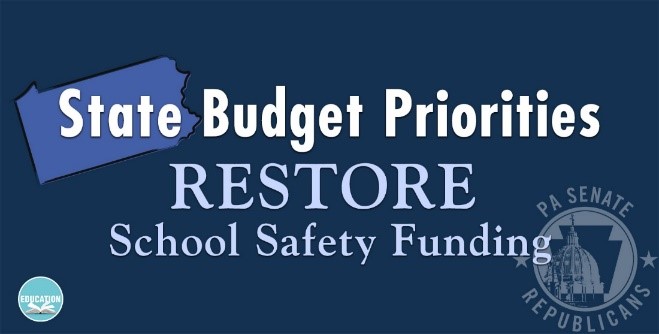 School Property Tax Elimination Rally
On Monday, grassroots organizations supporting school property tax elimination (Senate Bill 76/House Bill 76) invited me to their rally in the Capitol. I introduced this bill at their request and I have met over 300 times over the last several years with various individuals, groups and legislators trying to add more supporters for this legislation.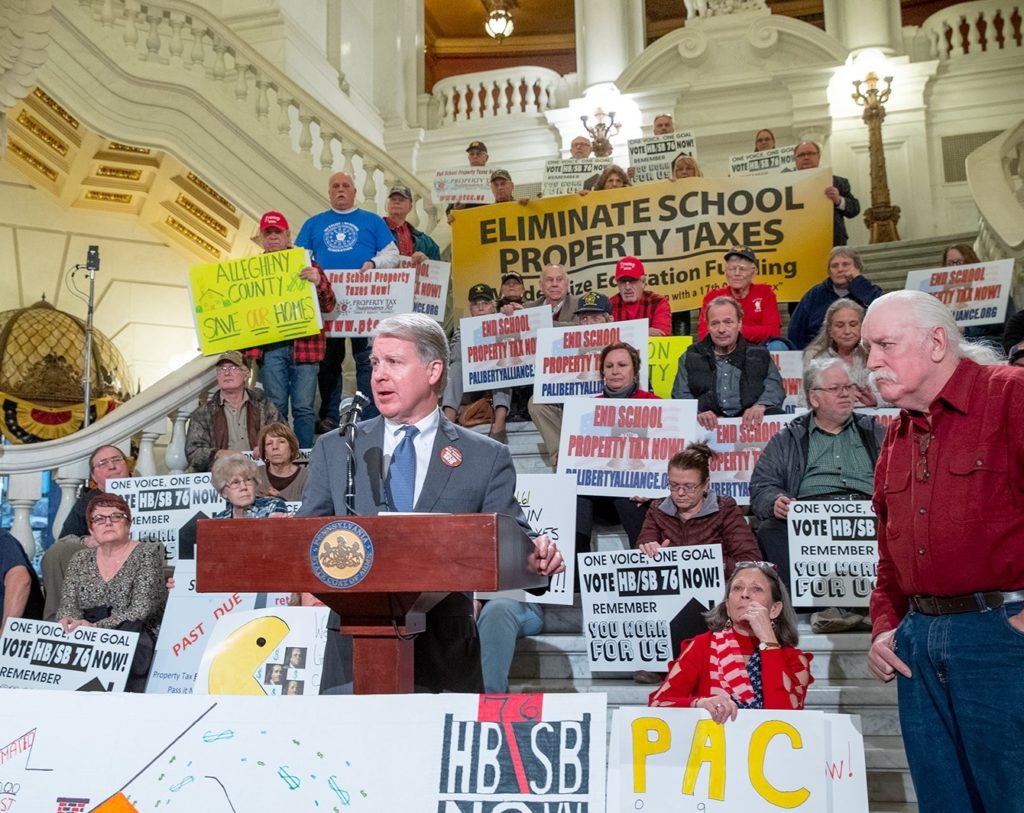 At the rally, Rep. Heffley, Senator Scavello and I spoke to hundreds of people from all over Pennsylvania who share this common goal: We want to see this rotten school property tax eliminated. We need to find a better way to fund our public schools than an archaic and unfair tax structure from the 1600's. After the defeat of this bill in 2015 by a vote of 25-24, we need to remember that we need 102 votes in the House, 26 votes in the Senate, and the Governor to get this done. It's never going to be easy, but I refuse to give up!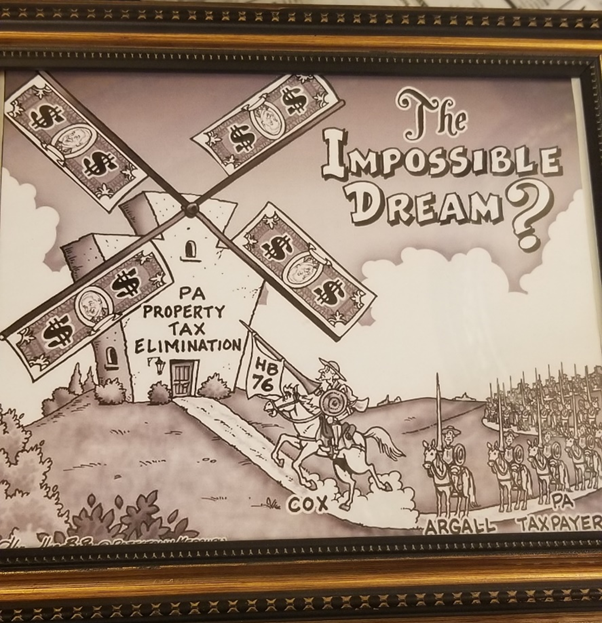 (A classic from the Pottstown Mercury which is on my desk at the Capitol)
Our next meeting: at the request of Senator John DiSanto (R-Dauphin/Perry), the Senate Majority Policy Committee will meet in Marysville in Perry County to review school property tax elimination efforts. This public event will take place on Wednesday, February 12 from 1:00 p.m. to 3:00 p.m. at the Marysville Lions Club.
You can read more about it here.
Will Governor Wolf Veto Bipartisan Bill that Creates Thousands of Jobs in Eastern PA?
The Governor is threatening to veto a bipartisan bill providing tax credits to attract thousands of new jobs to Eastern Pennsylvania. HB 1100 would offer tax credits to attract industries that use methane, the main constituent of natural gas, in the manufacture of petrochemicals or fertilizers.
This bill is similar to the tax credit incentive passed in 2013 to bring Shell Polymer to western PA. The Beaver County "cracker plant" currently employs nearly 7,000 skilled workers at the largest construction site in North America. Eastern PA workers also deserve these same opportunities.
HB 1100 received major bipartisan support, with no Republicans voting against it. In the Senate it passed 39-11 with 10 Democrats voting for the bill and 11 opposed. In the House, the vote was 157-35 with 35 Democrats opposed and 57 voting "yes." A veto override would require 34 Senators and 136 House members. Stay tuned!
This Week In PA Interview: Lieutenant Governor Reform Legislation
Legislation I introduced to reform the way the Lt. Governor is elected has now passed both the House and Senate. ABC27 News recently interviewed me during their This Week In PA program. Once approved in two legislative sessions, it will become a ballot question for you the voter to answer. You can watch the interview below.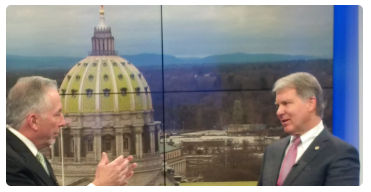 Parks and Recreation Grant Available

There is a new grant available for local governments to help fund parks, recreation, and conservation causes. You can read more about it here.
New York City Forcing Homeless to Move to Other States
An interesting report crossed my desk this week: New York City is spending over $80 million on relocating the homeless to other cities and states. Some see this as a way to give the homeless a fresh start with a lower cost of living while others see it as a program for NYC to dump their problem on others. Read the Heartland Institute article and share your thoughts with me.