Follow Sen. Argall on Twitter for Senate happenings – @SenatorArgall
For photos from Sen. Argall, follow him on Instagram

In this email update:
Again joining the Senate Leadership for 2019-2020 session
Veterans should start the New Year with a review of benefits
Governor Tom Wolf set to begin his second term
2019 Fishing Licenses Available Now
Breakfast seminar will focus on economic development, overnight accommodations in Tamaqua
---
Again joining the Senate Leadership for 2019-2020 session
Senate President Pro Tempore Joe Scarnati recently asked me to continue serving as part of the Senate Leadership team as Chairman of the Policy Committee.
The Policy Committee plays a critical role in studying a wide variety of important issues and developing legislation that has an impact on every region of the state.
Last year alone, the Policy Committee focused on issues like school safety, economic development, community revitalization, environmental concerns, union and labor issues, school property tax elimination, and numerous other topics.
One of the issues the committee will focus on in the new legislative session is welfare reform. The committee has already heard testimony over the past several months from experts in the field who have provided a great deal of interesting testimony detailing potential solutions to reduce fraud.
I appreciate the opportunity to continue to serve as the first Senator from our region to serve in Leadership since the 1860s. More information on this appointment is available here.
Veterans should start the New Year with a review of benefits
The New Year is a time for resolutions and fresh starts. The Pennsylvania Department of Military and Veterans Affairs (DMVA) is encouraging veterans to meet with a professional to ensure they are receiving the benefits they have earned through their service and sacrifice.
Periodically veterans should speak with a Veterans Service Officer to see if changes in their circumstances or changes to benefit policies may have modified the programs they are eligible to receive.
Veterans can apply for federal healthcare and state benefits by visiting their local county director of veteran's affairs or area accredited service organizations to take a look at what benefits they may be eligible for and to get help applying for those programs.
Veterans can also sign up for the DMVA Veterans Registry, an extremely helpful and free tool that electronically delivers timely information about the many state benefits, programs and services available to veterans. Veterans, family members and people who work with veterans can sign up by going to their website.
There are around 200 Veterans Service Officers in Pennsylvania who work with organizations such as the DMVA, county veteran's affairs offices, and several veterans' service organizations. They are experienced, trained professionals who provide veterans with the best advice and assistance at no cost.
For more about the DMVA, including information on our six veterans homes, visit their website.
Governor Tom Wolf set to begin his second term
Pennsylvania Governor Tom Wolf will be inaugurated next week to begin his second and final term following his re-election in November.
Governor Wolf's time in Harrisburg is a tale of two governors. Early in his first term, the state suffered through a painful budget impasse that lasted nearly nine months. The stalemate was brought on by an insistence on historically large increases in state spending and taxes.
Later in his first term, Governor Wolf showed a stronger willingness to compromise, leading to bipartisan agreements to ease the public pension crisis, reform the state's liquor system, and avoid outrageous increases in government spending.
I am hopeful that Governor Wolf's second term will feature more of what we saw in the last two years and less of what we suffered through during his first two years. I look forward to working with the Governor over the next four years to pursue policies that will help move Pennsylvania forward.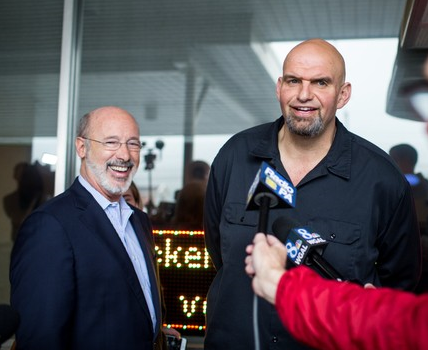 Governor Tom Wolf and newly elected Lieutenant Governor John Fetterman
2019 Fishing Licenses Available Now
Pennsylvania anglers can purchase their 2019 fishing license now at any of the state's 700 issuing agents, county treasurer's offices, Pennsylvania Fish and Boat Commission regional offices, or online at www.gonefishingpa.com.
Licenses purchased now at a cost of $22.90 will be valid through December 31, 2019. More information for anglers is available online.
Breakfast seminar will focus on economic development, overnight accommodations in Tamaqua
In 2014 Tamaqua was the first borough in the state to be selected for a special pilot program that encourages job growth in underdeveloped properties by reinvesting state and local tax dollars generated in those areas back into the community. Tamaqua Borough is the only non-city be awarded this major economic tool. I applaud the members of the Borough Council and the staff of both the Borough and the Tamaqua Community Partnership for their efforts. They were one of the only community leadership groups across the state willing to spend almost a year in developing a very detailed, and ultimately successful application. Due to their vision, the Pennsylvania Department of Economic and Community Development awarded the borough this unique opportunity after a detailed review.
In 2013, I amended the City Revitalization and Improvement Zone (CRIZ) legislation in the Senate to allow for one "pilot" zone in a smaller community. The CRIZ program has already spurred new business creation and job opportunities in a number of cities throughout the state. In Tamaqua, the program has generated hundreds of thousands of dollars for new development since the borough first achieved a CRIZ designation, proving that the program can have a positive impact in smaller communities. The success we have earned here could set an example for boroughs and townships and open up new economic opportunities in other Pennsylvania communities—if the Governor reverses his current position and allows other communities to apply for the program.
I will join the Tamaqua Area Chamber of Commerce for a breakfast seminar to discuss CRIZ and our ongoing efforts to promote more overnight accommodations in the Tamaqua area. Congressman Dan Meuser, Representative Jerry Knowles, and Micah Gursky, the executive director of the Tamaqua Area Community Partnership, will join us at the breakfast.
Local employers are encouraged to attend to learn more about how these changes can benefit the business community and help revitalize our area.
The breakfast seminar will be held on January 25 at 8 a.m. at the Tamaqua Community Arts Center, 125 Pine Street. An RSVP is required by January 17. A complimentary light breakfast will be provided thanks to Cloud Service Center. Please join us if you want to learn more about this special opportunity for our community.
For more information or to RSVP, please contact the chamber by phone at (570) 668-1880 or by email at chamber@tamaqua.net.