Follow Sen. Argall on Twitter for Senate happenings – @SenatorArgall
For photos from Sen. Argall, follow him on Instagram

In this email update:
2019 Swearing in Day
American Red Cross seeks nominations for local Berks heroes
2019 Farm Show Begins Saturday
My 2019 New Year's Resolutions to you
2019 Swearing In Day
The State Senate convened at noon on New Year's Day for the 2019-2020 Legislative Session Swearing-In Ceremony for re-elected members, newly elected members and to see to administrative duties. The Pennsylvania Constitution mandates that the Senate convene for Swearing-In Day on the first Tuesday in January of every odd year. This year we welcomed 7 freshman members: 2 Republicans and 5 Democrats. The new composition of the Pennsylvania state Senate : 28 Republicans and 21 Democrats with one vacancy since my good friend Senator Guy Reschenthaler of Allegheny County resigned this week because he was elected to Congress.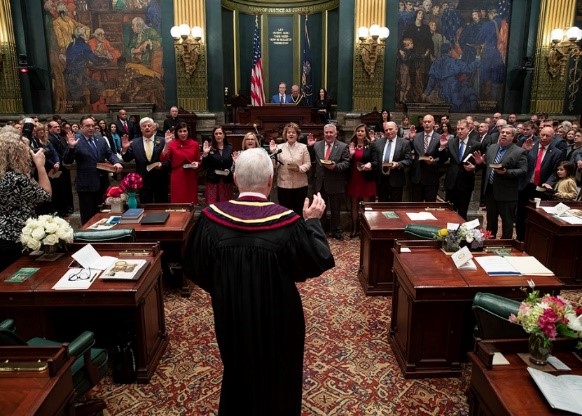 American Red Cross seeks nominations for local Berks heroes
Throughout the Berks County community, everyday people perform extraordinary acts. The American Red Cross needs our help in identifying and recognizing our local heroes for their selflessness and courage.
The Berks County Heroes Breakfast takes place each May to honor the prior year's local heroes for using their First Aid, CPR, AED training to save lives or make Berks County a better place to live and work. Proceeds from the breakfast benefit the programs and services of the American Red Cross in Berks County.
If you are interested in nominating your hero, follow this link to the online form.
2019 Farm Show Begins on Saturday
The best of Pennsylvania's agriculture community will be on display during the 103rd Annual Farm Show, which kicks off in Harrisburg on Saturday. The event is the largest indoor agricultural expo in the world, featuring more than 12,000 competitive exhibits and 300 commercial exhibits.
The event runs through January 12. Full details about this year's Farm Show, including a complete schedule of exhibitions and competitions, are available online here.
Good luck to all of our local Farm Show participants!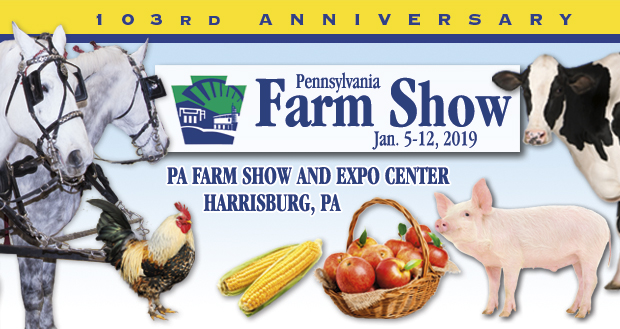 My New Year's Resolution to all of you is very simple, from the pen of the 18th century English theologian John Wesley:
Do all the good you can,
By all the means you can,
In all the ways you can,
In all the places you can,
At all the times you can,
To all the people you can,
As long as ever you can.
Here's to a successful and healthy 2019 to all of you!